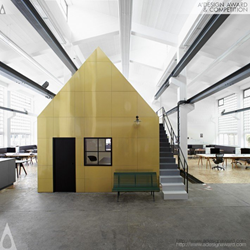 Como, Italy (PRWEB) November 29, 2014
A' Design Award and Competition is pleased to announce that the work "Halle A" by Designliga became winner of the coveted Golden A' Design Award at Interior Design Competition .
Regarding Halle A
Designliga Büro Für Visuelle Kommunikation Und Innenarchitektur, the creative design team behind the awarded interior design project "Halle A" stated: "Designliga, the bureau for visual communication and interior architecture and design, took a former industrial machine shop and created a new working environment for its own staff and for Form & Code, its strategic partner in Web and application development. The design concept was inspired by the dynamic interaction between architectural atmosphere, the modern digitally focused world of work and the contemporary search for intimacy and material substance. Halle A is a studio, workplace and living space for the people that work here and for our visitors. " Learn more and download high-resolution photos at: https://competition.adesignaward.com/design.php?ID=29831
Creative Team for Halle A by Designliga
Halle A by Designliga was conceived by CEO and Creative Director Sasa Stanojčić and Head of Interior Architecture and Design Christina Koepf
The Golden A' Design Award
The Golden A' Design Award in Interior Design is a prestigious award given to top 3% percentile designs that has accomplished an exemplary level of quality in interior design. Entries to the A' Design Award & Competition are peer reviewed and anonymously judged by an esteemed jury panel of established scholars, prominent press members and professional designers. Entries are voted on predetermined evaluation criteria. Laureates of the A' Design Award & Competition are provided a series of PR and Marketing services to celebrate the status of winning the accolades such as inclusion in World Design Rankings as well as invitation to join the Buy Sell Design network to find new clients. Award winners are also invited to attend the gala-night and exhibition in Italy.
About A' Design Award and Competition
A' Design Award and Competition is a philanthropic initiative that aims to create a better world by pushing designers, artists, engineers, architects, brands, companies and product manufacturers worldwide to design superior products and projects that benefit society. The A' Design Competition furthermore aims to create a global awareness for good design practices and principles, and aims to increase the demand for good design products and services. Entries to the competition are accepted in all disciplines and from all countries. Learn more about the A' Design Competition at http://www.designaward.com