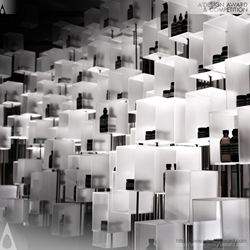 Como, Italy (PRWEB) November 30, 2014
A' Design Award and Competition is delighted to share that the Installation Design by Cheungvogl Architects has been awarded with the coveted Golden A' Design Award in Interior Space and Exhibition Design Competition.
Insights on Aesop Installation
Cheungvogl Architects, the creative team behind the award winning work "Aesop Installation" said: "Cheungvogl created an installation for Aesop at I.T Hysan One in Causeway Bay, Hong Kong that builds on the reputation for architecturally remarkable spaces. Cheungvogl have imbued the exhibition space with a delicate luminosity. Eight hundred resin boxes are arranged atop steel rods of varying lengths, creating the sense that each box is ascending at its own pace, as if being drawn upward by an invisible thread. The installation explicitly focuses on the integration, interaction and communication." Learn more about the award winning design: https://competition.adesignaward.com/design.php?ID=30086
Team Members for Aesop I.T Installation, Hong Kong
Aesop I.T Installation, Hong Kong was imagined by Judy Cheung, Christoph Vogl , K Nakamura and Kai Fischer.
The Golden A' Design Award
The Golden A' Design Award is a prestigious award given to top 3% percentile designs that has exhibited an exemplary level of excellence in design. The designs are judged by a grand jury panel of designers, press members and academics who score entries based on their functionality, ergonomics, engineering, presentation, innovation, usability, fun details, technology, and any other specific points that could be considered. Laureates of the A' Design Award and Competition are granted a series of PR and marketing services such as an article feature at DZGN Design Blog, inclusion in World Design Rankings and World Design Index as well as physical exhibition of awarded projects in several countries.
About A' Design Award and Competition
Endorsed by the DesignCompetition.com and many others, the A' Design Award and Competition aims to highlight the excellent qualifications of best designs, design concepts and design oriented products in all countries and in all creative disciplines. The ultimate aim of the A' Design Competition is to push designers, artists, architects and product manufacturers worldwide to create superior products or projects that benefit society. To learn more visit: http://www.whatisadesignaward.com