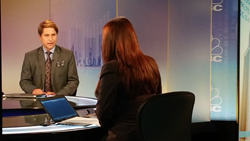 Chicago, IL (PRWEB) November 29, 2014
David Drake was interviewed on CNBC Arabia's Bursat TV show last week as macroeconomist and early-stage equity expert. Drake shared insight on global economics such as the monetary policies of the central banks of Europe, China and the United States. He also talked about the rapidly growing crowdfunding industry opportunities in the real estate sector, including sites such as American Homeowner Preservation ("AHP"), as well as the rising activity in online financing of the oil and gas sector among others.
Drake says, "We did not expect unemployment problems in the US four years ago, nor expected the lowering of interest rates by China last Friday, November 21st. The surprised lowering of interest had an overall positive effect on the exchanges globally." He further adds, "Despite recent developments, Mario Draghi, President of the European Central Bank (ECB), is pushing for anti-inflation measures and government-backed bonds while Europe faces an 11.5 percent unemployment."
Drake is an investor with expertise in family offices, early-stage equity and crowdfunding. Drake says, "Investors are now appreciating crowdfunding as a tool for diversifying and stabilizing their investments. For instance, real estate has always been viewed as a safe, less risky form of investment compared to investments like equities. Previously, most investors with interests in real estate had to identify real estate firms to invest in. They needed to embrace the whole range of activities that the firm offered irrespective of whether they found them agreeable or not. Now, that has changed because crowdfunding enables investors to invest in specific projects or properties directly. It gives investors the leeway to diversify their investments and manage risks by spreading their investments over a number of projects."
AHP is one of the leading real estate crowdfunding platforms in the U.S. Established in 2008, AHP provides opportunities to invest in high yield distressed mortgage opportunities which strengthen families and communities. Nonperforming residential mortgages are acquired from banks at big discounts, which are then shared with struggling families in the form of reduced payments and discounted principal to provide viable solutions to keep families in their homes. Investors can earn 9 – 12% annual returns. AHP collaborates with The Soho Loft Conferences in offering RealCap Chicago, a conference that teaches entrepreneurs and investors online deal syndication.
AHP founder and CEO Jorge Newbery, says "These conferences provide a cutting edge educational opportunity for real estate entrepreneurs as well as great networking opportunity." He adds further, "AHP has met new investors at earlier similar events, and made introductions which have blossomed into valuable relationships."
Following the inaugural RealCap Chicago in September, the 2nd RealCap Chicago edition is set for April 16, 2015.
Drake is the founder and chairman of Victoria Global which is his holding company with 3 major divisions:
1) Media: The Soho Loft Media Group, the financial media firm;
2) Finance: consisting of LDJ Capital, the private equity advisory firm, Victoria Partners, the family office advisory firm, and ConnectInvest, for business intelligence;
3) Hospitality: Drake Hospitality Group, which has its flagship hotel to be built in NYC and 40 other hotels in the next 5 years.
The Soho Loft Media Group focuses on educating investors and entrepreneurs through conferences, publications and corporate communications. The Soho Loft Conferences division produces and supports more than 200 annual conferences since 2011, with its aim to educate and advance early-stage equity strategies for small and medium enterprises (SMEs) and start-up entrepreneurs. Times Impact Publications division publishes and syndicates financial educational content for over 100 publications, and Victoria Global Corporate Communications division leads in client investor relations, public relations, branding and social media marketing.
Drake is a key advocate of the Jumpstart our Business Startups Act, or JOBS Act, that he lobbied for in the US and the EU Commission. Due to this work, he was named as the US Commerce Department delegate to the EU Commission in Brussels and Rome in July 2012. He was also invited in May 2013 to the White House Champions of Change ceremony in Washington, D.C.
As a serial entrepreneur, he is involved in TMT (technology, media and telecom), cleantech, energy, realty and impact investments for over 20 years. He advocates for innovative investing in early-stage equity, helps shape capital formation policies and development locally and globally.
He promotes financial innovation in his talks as an international speaker, and in the articles he writes regularly for major publications such as Wall Street Journal, Forbes, Huffington Post and Thomson Reuters. He has spoken in major universities like University of Cambridge, New York University, Cornell University and Columbia University.
Today, his intent is to be in board advisory positions of companies, venture funds and in angels and their networks. His aim is to advise them on topics such as corporate strategy and fund structures, international regulations and online investment automation for retail and angel investors.
The 'Bursat Show' translated, "Business Arabia" is the first and leading news program on business and finance in the Middle East. The half hour weekly program features a detailed round-up of top business news and stories from the region. The show features top personalities who define the business landscape of the region and delivers insights from top businessmen and women in the corporate Arabia to its viewers.
Watch for more The Soho Loft Conferences happening across the country and around the world, the next one may be in your city. To get VIP access to major conferences that intersect finance with key industries and for other exciting perks and benefits, consider the annual membership programs at http://www.thesoholoft.com/vipmembers.
Visit http://www.thesoholoft.com for more information on upcoming and past events.
MEDIA CONTACT:
About THE SOHO LOFT Media Group (http://www.thesoholoft.com)
The Soho Loft Media Group is a global financial media company with 3 divisions:
TIMES IMPACT PUBLICATIONS (which includes http://www.TimesRealtyNews.com) produces relevant content on investing and entrepreneurship that are published and syndicated in 100+ leading online publications and growing.
THE SOHO LOFT CONFERENCES (http://thesoholoft.com/upcoming-conferences/) organizes up to 200+ investor-focused global summits, talks and events annually.
VICTORIA GLOBAL (http://victoriaglobal.co/) Corporate Communications specializes in client Investor Relations, Public Relations, Branding and Social Media Marketing.
The Soho Loft Media Group is your global partner for your investment and business strategies.
For inquiries, contact info(at)thesoholoft(dot)com or call 212.845.9652
American Homeowner Preservation is a socially responsible investment fund manager which empowers accredited investors to purchase equity in pools of distressed mortgages and earn returns of 9-12%. For further information or inquiries please visit https://ahpinvest.com or call 800-555-1055.