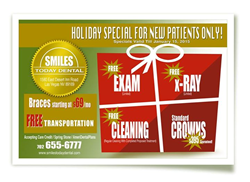 Las Vegas, Nevada (PRWEB) November 29, 2014
Smiles Today Dental, a dentistry office located in Las Vegas, recently announced that it is offering several holiday specials for new patients to their facility. These specials include a Free Exam, X-rays and Cleaning also discounted prices for standard crowns. The goal is to offer basic services needed for good oral health as well as for aesthetic reasons and tooth function.
The new patient special is designed to provide new patients with an initial exam that meets annual goals of dental cleaning and X-rays. While exams and cleanings are recommended for patients on a biannual basis, X-rays are only needed once a year. A dental exam provides early detection of tooth decay, gum disease, and other problems. The office is also providing standard crowns at an affordable price, making it possible for new patients to receive necessary dental restorations at a reduced cost.
A representative from Smiles Today Dental stated that the office "wishes to make it possible for everyone to obtain quality dental care." He continued by saying "We are offering complimentary exams, cleanings, and X-rays because we believe that everyone deserves to have a good smile. With the New Year right around the corner, we believe there couldn't be a better time to provide initial dental care at no charge."
The owner of Smiles Today Dental believes that dental specials and complementary services give patients an added incentive to come into the office. They provide a tangible reason for individuals to consider their oral hygiene needs - one that affects their finances.
Posted specials are available through January 15, 2015, and more information is available on the website (smilestodaydental.com). Interested individuals are invited to visit the website to set up their appointment or to call if they have any questions.
About Smiles Today Dental
Located in Las Vegas, Nevada, Smiles Today Dental provides a comprehensive assortment of dental procedures and treatments. The professional dental facility is focused on the delivery of quality services provided by highly trained professionals. Open seven days a week, this dental practice offers complimentary round-trip transportation for area patients in need of dental examinations, cleanings, adult and juvenile braces, restorations, cosmetic procedures, and more.
Smiles Today Dental
Las Vegas Dentistry Professionals
1580 East Desert Inn Road
Las Vegas, NV 89169
702.655.6777
smilestodaydental.com
###