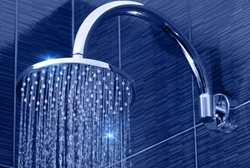 (PRWEB) November 30, 2014
In a recent online survey conducted by Tellwut of over 2500 online panelists, Tellwut found that 64% of respondents have peed in the shower, while 33% consider this to be gross. The question was raised as a recent report by two students at the University of East Anglia in Norwich, England found that taking your first morning pee in the shower is both environmentally friendly and good on the pocket book. With a flush being equivalent to 12 liters of water or 3.2 gallons, a Tellwutter wanted to know if people have peed in the shower.
From the online survey comments, one could discern that any peeing in the shower was more out of convenience and or laziness, than a desire to be environmentally friendly. A "wee" little humor from comments by Tellwutters:

"…all guys pee in the shower…",
"causes athletes foot",
"pee steam….", and
"Well now, justification has been found".
About Tellwut®. The Tellwut online panel provides online market research quickly and effectively. Tellwut has a broad based North American online community of individuals dedicated to expressing their opinions through online surveys based upon a wide variety of topics in exchange for rewards and the Tellwut community experience. The Tellwut community and proprietary survey and reward software application provide a platform for organizations to send surveys to their stakeholders or to crowdsource and conduct online market research through the use of the Tellwut survey platform and the Tellwut Community; thus allowing businesses a clearer understanding and insight into their products or services, customer attitudes and potential business opportunities.