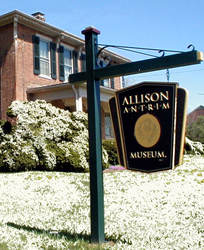 The historic 1860 museum house will be decorated as homes would have been during the Civil War era, during the mid-Victorian period.
Franklin County, PA (PRWEB) November 30, 2014
Reminisce about Christmas mornings past with the Franklin County Visitors Bureau at the special holiday exhibit at Allison-Antrim Museum (AAMI), 365 South Ridge Avenue, Greencastle, PA. Vintage model trains--received by little boys from the early to mid-1900s--are on display, beginning December 4 through December 26. The museum is open regularly Monday through Friday, from noon to 4 PM and is closed on Christmas Day.
Allison-Antrim Museum will participate in Greencastle's 2014 Heritage Christmas evening on Friday, December 5, 6:30 PM – 8:30 PM. Luminaries will guide the way to the front-door entrance of the museum house where guests will enjoy traditional holiday music on the dulcimer and sultry.
The historic 1860 museum house will be decorated as homes would have been during the Civil War era, during the mid-Victorian period. Della Robbia fruit arrangements in the Victorian concrete urns and transom of the front door will welcome guests. Roping on the banister, fresh magnolia and boxwood greens, and an old-fashioned cedar tree decorated with dried fruit, gilded walnuts, Marzipan fruit candies, gingerbread cookies, antique candle holders, and Civil War flags will take visitors back to a much simpler time. The epergne on the hall table, which was used in the McLaughlin Hotel (John Allison Public House in downtown Greencastle) for its guests during the first half of the 20th century, will be used in a traditional way to display fruit.
The dining room and master bedroom are furnished with period furnishings and the downstairs floors are covered with oriental rugs. Upstairs, in the children's room, boyhood toys will be displayed; they include a cement mixer, fire engine, WWII vehicles, and mechanical games, which, today, would be played on iPods and iPads. Also, in the children's room will be the late 19th century toys that belonged to the Carl family, of Carl's Drug Store, owners of the longest continuously operating drug store in the United States. The Carl family toys are made of tin, wood, cardboard, papier-mâché, and plaster of Paris and include Pete, Punt and Globe, a clown, jointed elephant, horse with bobbing head, a rabbit, a music box, two telephones and bow and arrow.
Light refreshments will be served to museum visitors in both the house and barn. For more information, please visit the museum's website at http://www.greencastlemusem.org, Facebook, and on Twitter @greencastlemuzm, or call 717-597-9010. There is no charge for admission but donations are accepted.
The Franklin County Visitors Bureau invites all to explore Franklin County PA and enjoy the history, arts and entertainment, recreation and natural beauty, and the fresh foods and warm hospitality of charming communities like Chambersburg, Greencastle, Mercersburg, Shippensburg, and Waynesboro. Franklin County PA is located just north of the Mason Dixon Line and an easy drive to Washington DC, Philadelphia, and Pittsburgh. Discover more....plan your visit at ExploreFranklinCountyPA.com or by contacting 866.646.8060.