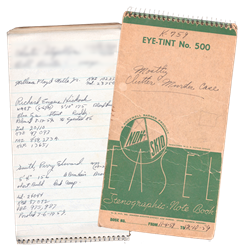 Even 55 years after the murders, there appears to be much more to the story...events that even Truman Capote likely never knew.
SEATTLE, WA (PRWEB) December 02, 2014
A Kansas district court judge has decisively rejected efforts of Kansas Attorney General Derek Schmidt on behalf of the Kansas Bureau of Investigation (KBI) and the State of Kansas to suppress publication of the half-century old correspondence and handwritten notebooks of former KBI Special Agent and retired KBI director Harold R. Nye, one of the principal investigators of the Clutter family murders. These horrific crimes took place in Holcomb, Kansas in 1959, and were the subject of Truman Capote's bestselling 1966 nonfiction novel "In Cold Blood."
In a detailed opinion that upheld defendants' rights of free speech and publication under the United States and Kansas constitutions, Shawnee County district court Judge Larry D. Hendricks vacated an injunction against Defendants entered on April 23, 2013, and granted Defendants' motion for summary judgment that the preliminary and permanent injunctions requested by the State were unconstitutional prior restraints.
[A PDF of the Court's Order can be found here, with salient points of the case highlighted.]
Controverting assertions made by the State of Kansas, Judge Hendricks wrote, "The court finds that its prior grant of Injunctive Relief was in Error. After further review the court finds there is no substantial likelihood of eventual success on the merits on this issue, the state will not suffer irreparable harm and the threat of suffering injury does not outweigh whatever damage the proposed injunction may cause the opposing party."
O. Yale Lewis, Jr., of the Seattle law firm Hendricks & Lewis, expressed appreciation for Judge Hendricks' opinion, which Lewis described as "thorough, well reasoned and firmly grounded in the facts of this case and controlling U.S. and Kansas Supreme Court decisions."
Writing that "The creation and dissemination of information are speech within the meaning of the First Amendment," Judge Hendricks found that "…the Nye Journals are essentially a collection of facts and personal impressions, observations, conjecture, action plans, lists of suspects, and to-do-lists concerning Harold Nye's investigation of the Clutter murders."
A lifelong law enforcement officer, Harold Nye maintained hundreds of notebooks over three decades, in which he recorded the kinds of information a seasoned investigator would observe, in addition to personal notes, as found by the Court.
DEFENDANTS PLAN TO PUBLISH
Welcoming the news was Gary McAvoy, owner of Vintage Memorabilia and a co-defendant in the lawsuit along with his client, Ronald Nye, son of the late KBI Special Agent Harold Nye.
"We are tremendously gratified by the court's decision, and appreciate the issues Judge Hendricks had to consider," McAvoy said. "After two and a half years of battling Kansas, both Ron and I look forward to bringing his father's observations public now, reflecting a story that differs from Capote's book in important ways.
"The State and the KBI pursued us aggressively to suppress certain information we possess," McAvoy continued. "The irony is, had they simply avoided such heavy-handed tactics as pressing this lawsuit and publicly tarnishing Harold Nye's good name, we might never have discovered sensational details that time and opportunity revealed as we prepared our defense.
"Even 55 years after the murders, there appears to be much more to the story...events that even Truman Capote likely never knew."
McAvoy and Nye will soon publish a book they have been working on for over two years, featuring selected pages of Agent Nye's research notes as well as other materials related to Nye's investigation—including support for a startling new theory that readers of "In Cold Blood" will no doubt find shocking.
Ron Nye was equally elated with the court's decision.
"My father served the State of Kansas with loyalty and distinction for over 30 years," Nye said. "He simply didn't deserve the repugnant character assassination his own state tried to sell the court."
Among dozens of motions it filed with the court, the State contributed substantially—although unintentionally—to Defendant's case with the observation that, "Harold Nye's field notes are original, one of a kind writing… what their content may disclose when put into the hands of persons of great imagination…may lend to great flights of speculation…. These field notes were intended for a singular purpose, to serve as a record of data…in preparing his written reports and to refresh his recollection."
"On one point we agree," Nye said of the State's assessment. "My dad was a meticulous note taker, and much of what we now know he discovered during his investigation adds a measure of substance well beyond Capote's 'novelistic' treatment of the story.
Nye and McAvoy are represented by the law firms Hendricks & Lewis of Seattle, Washington, and Cornwell Vokins of Olathe, Kansas.
ABOUT VINTAGE MEMORABILIA
Vintage Memorabilia is a dealer of rare and historical autographs, books, and manuscripts, to whom Ron Nye turned in 2012 when he considered selling his father's memorabilia, primarily books and letters sent to him personally by Truman Capote during and after the investigation, along with the historically related notebooks and other material. Founder and president Gary McAvoy, who is also a writer and published author, is a member of The Manuscript Society and The Authors Guild.
CASE REFERENCE:
Case # 2012-C-1053
District Court of Shawnee County, Kansas, Division 06 — Judge Larry D. Hendricks
Link to the Court's Memorandum Decision & Order, with salient points highlighted
CONTACTS:
Gary McAvoy
gary(at)vintagememorabilia(dot)com
(206) 774-2074
http://www.vintagememorabilia.com
Ronald Nye
(405) 550-5712
O. Yale Lewis, Jr.
Principal Counsel for Mr. McAvoy and Mr. Nye
Hendricks & Lewis PLLC
oyl(at)hllaw(dot)com
(206) 624-1933
http://www.hllaw.com
Tai Vokins
Kansas Counsel for Mr. McAvoy and Mr. Nye
taivokins(at)cornwellvokins(dot)com
(913) 732-4539
http://www.cornwellvokins.com