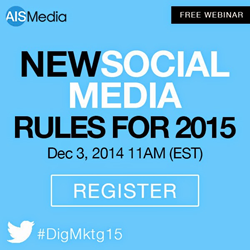 Atlanta, GA (PRWEB) December 01, 2014
In part 6 of the 6-part Digital Marketing Webinar Series, AIS Media Inc., will reveal the "must-know" social media tactics for success in 2015. In this informative 30 minute webinar, you'll learn how social media turns public relations on its head. Join AIS Media Inc., Wednesday December 3, 2014 at 11:00 am (EST) and learn the must know digital insights for spreading the word in 2015. The agenda includes:

Navigate the changing landscape of digital Public Relations
Achieve stronger results for free PR and media
Use under-utilized tools for attracting new customers
Diversify and advance your online presence
Pitch, get picked up and publish where it counts
Monitor and manage your reputation
Diffuse negative reviews
Use Social Media techniques to crank up engagement and buzz
Quantify progress and measure value
Get more of the results you want, and much more!
Details and registration: http://newrulespr.aismedia.com/
Sign up today and become an expert yourself through AIS Media's "New Digital Marketing Rules 2015" webinar series. Gain insights on unique digital challenges marketing professionals face, how to accelerate the customer journey and amplify the performance of digital lead generation programs.
About AIS Media
AIS Media, Inc. is an Atlanta-based award-winning strategic digital marketing agency. Founded in 1997, AIS Media has helped hundreds of clients amplify digital marketing performance including the world's top brands, companies and organizations. For more information visit http://www.aismedia.com