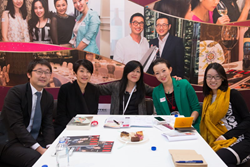 Millennials who now lead many corporate structures or entrepreneurs will become opinion leaders in lifestyle trends, including wine choices
Verona, Italy (PRWEB) December 01, 2014
Only two days to go unitl wine2wine, the first event in Italy to be entirely dedicated to the wine business and organized by Vinitaly in collaboration with Federvini and Unione Italiana Vini, two days of seminars and workshops held by key players of business sectors targeting Italian wine producers, journalists and wine professionals.
The opening session of the event will be entirely dedicated to China, thus confirming the great importance ascribed to this growing wine market. It is not by chance that the title of the workshop, "The new faces of the Chinese market", reflects the young panellists, considered to be part of the Millennial Generation, also called the "Net generation." The growing interest in wine in China is, in fact, strongly correlated to the circulation of internet lines and smartphones that today represent the main purchasing instrument amongst young Chinese consumers.
In fact, the Chinese wine market is currently undergoing an evident slowdown generated by the anti-corruption policies that have mostly affected local production. According to Yanni Wu, ex General Manager of WINE100 Challenge, this phenomenon is only to be considered as a moment of transition between two important phases: the "consumer era" of tomorrow and the "old glory days" of the past, when both imported wine and local production were undergoing a consistent growth and wine was still regarded almost exclusively as a gift. During the workshop Ms. Wu will be offering and overview of the current Chinese wine market as well as an in-depth analysis of the driving forces behind a generalized optimistic vision of the future, both from a microscopic and a macroscopic perspective.
According to Vinexpo Projections between 2013 and 2017, Chinese wine consumption will regain momentum by 33.8% growth in the course of the next five years to reach 230 million 9-litre cases by 2017 (Source: Vinexpo, 27 May 2014, http://tinyurl.com/kwukqv7). Ms. Wu will highlight some of the barriers that need to be overcome in order to achieve this growth including the difficulty that consumers have when faced by the choice of where and what to buy and the need for a greater communication between professionals and the consumers themselves.
Next year's first edition of the Shanghai Wine and Dine Festival could certainly offer a positive example in this sense: thanks to the coordination amongst wine, food and marketing experts, local consumers will have the opportunity to visit and get to know wines from all over the world, including those form the Italian Pavilion that will be entirely coordinated by Vinitaly.
Many of the attendees will no doubt also be coming to listen to Judy Chan, president of Grace Vineyard and considered to be one of the finest wine producers in China. Listed in most of the top-end hotels and restaurants in the country, Grace Vineyard has grown a great deal in recent years and has attracted such worldwide attention to become a Harvard Business School's case study in 2008, thanks to the managerial talent of this young woman who took over the company from her father's hands when she was only 24.
The Grace model has evolved throughout the years initially struggling to sell the concept of fine wine to Chinese buyers in a strongly segmented market where living habits greatly change from North to South. Today, Grace makes more than two million bottles a year, with grapes like the Cabernet Sauvignon, Cabernet Franc and Merlot in its Chairman's Reserve.
A greater understanding of wine in general vis a vis Chinese wines will also benefit imported wines as consumers will gradually seek for something new and different. Hence the significant expected increase of local wine production over the next five years should not be considered a threat, but an opportunity for Italian wine producers.
"The formation of this panel is in many ways dedicated to the Millennials of China, not very different from their counterparts in other parts of the world." explains Stevie Kim, Managing Director of Vinitaly International. "The main difference, however, is the fact that in China wine knowledge and consumption is still at its early stage but social media will foster to bridge this gap. Despite the recent economic slowdown, Millennials who now lead many corporate structures or entrepreneurs will become opinion leaders in lifestyle trends, including wine choices."
Yang Lu, by many considered the best sommelier in China, wine director for Shangri-La Hotels and the only Advanced Sommelier from Greater China will also be speaking at the session offering an overview of consumer trends and what it takes to produce a good wine. He will also underline the difference between Hong Kong and Mainland China with regards to wine consumption patterns.
Sunny Zhang is editor-in-chief of Pinor Sommelier Magazine which embraces 150 Chinese sommeliers who actively engage Chinese wine lovers by using Pinor's online and offline platform. Since its inception, Pinor Sommelier Magazinehas been fast growing in one of the most recognized wine media in China with a circulation of 370 thousand copies per issue in 20 cities, including 4 major wine markets: Beijing, Chengdu,Shanghai and Guangzhou. The Magazine is distributed among more than more 400 partners including five star hotels and high-end restaurants.
About:
Veronafiere is the leading organizer of trade shows in Italy including Vinitaly (http://www.vinitaly.com), the largest wine event in the world. The 48th edition of Vinitaly counted some 155,000 visitors (+6%) in four days of event, of which 56.000 were international attendees representing 36% of the total. On 100.000 square meters, 4.000 exhibitors welcomed trade professionals, media and producers alike. The next instalment of the fair will take place on 22 – 25 March 2015. The premier event to Vinitaly, OperaWine (http://www.vinitalyinternational.com) "Finest Italian Wines: 100 Great Producers," will unite international wine professionals on March 21st 2015 in the heart of Verona, offering them the unique opportunity to discover and taste the 100 best Italian wines, as selected by Wine Spectator. In 1998 Veronafiere also created Vinitaly International to develop a global platform for the promotion of Italian wine producers in foreign markets such as Russia, China, USA and Hong Kong.
# # #