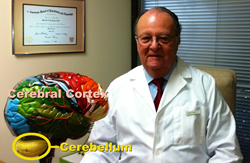 Levinson's cerebellar-vestibular theories of dyslexia and ADHD have led him to better understand and treat these overlapping (comorbid) disorders while proving capable of explaining and/or encompassing all other theories.
(PRWEB) December 02, 2014
Commenting on two recent studies by Bucci and colleagues reporting similar cerebellar-related deficits in both dyslexia and ADHD, Dr. Harold Levinson believes the findings "add vital support to my theories explaining the origins, symptoms and overlapping of both disorders." Published in Frontiers in Human Science (11/14) and Research in Developmental Disabilities (6/14) respectively, they are entitled, The influence of oculomotor tasks on postural control in dyslexic children and Effect of visual attention on postural control in children with attention-deficit/hyperactivity disorder.
"Because dyslexia and ADHD each affect 10-15% of the population, Bucci's research supporting my initially challenging theories, offering new and invaluable insights into causation and highly beneficial treatments, is crucial to millions of suffering individuals," notes Levinson.
Bright reversal prone dyslexic children with reading, writing and spelling problems were initially recognized in 1897. Right from the start, their reading disorder was believed to be severe due to a failure of the thinking brain's reading processor to comprehend the clear signals received. "Because this brain damage theory and related definition of dyslexia led nowhere scientifically," Levinson claimed he "sought and found an alternative explanation."
In 1973, Frank and Levinson published an independently validated study demonstrating that over 97% of dyslexic children evidenced only cerebellar-vestibular or inner-ear signs and symptoms, including those recently encompassed by Bucci and colleagues. Thus dyslexia was hypothesized by these clinicians to be of a primary cerebellar-vestibular origin.
According to Levinson, his later research led to a comprehensive explanation of all dyslexic reading and non-reading symptoms and cerebellar-vestibular neurological findings as well as a unique clinically-derived understanding of ADHD and other comorbidities. It also led him to develop new methods of medial screening, diagnosis and treatment.
By expanding Noble Laureate Sir John Eccles' remarkable discovery that the cerebellum modulates signal transmissions, Levinson was able to explain all the cerebellar-determined dyslexia and related ADHD symptoms. He thus postulated that the cerebellum, acting as a fine-tuner for all brain signals, results in signal-scrambling when impaired.
According to Levinson, "Dyslexia is not just a reading disorder but a syndrome of coexisting symptoms. This syndrome results when scrambled sensory signals secondarily confuse the normal reading, writing, spelling, math, memory, speech…brain processing centers. ADHD occurs when initially normal frontal lobe concentration and related brain structures fail to properly handle the defective signals they receive."
"Comorbidity or overlapping manifests because 'dizzy' signals often simultaneously disrupt diverse brain processing centers. And all the typically diagnostic imbalance, dyscoordination and dysrhythmic cerebellar symptoms characterizing the above disorders, including the deficits reported by Bucci and colleagues, occur because of impaired motor signals leaving the brain."
Most important, this cerebellar theory led Levinson to discover "a new medical treatment resulting in rapid and often dramatic improvements for the majority of those with dyslexia and/or ADHD."
Additionally, Levinson claims his cerebellar theory has proven capable of explaining and/or encompassing all the other theories of these disorders, including the basis for recent speculations that dyslexia and ADHD do not exist.
About Harold Levinson, M.D.
Formerly Clinical Associate Professor of Psychiatry at New York University Medical Center, Dr. Harold Levinson is currently Director of the Levinson Medical Center for Learning Disabilities in Long Island, New York. He is a well-known neuropsychiatrist, clinical researcher and author. For more information, call 1(800)334-7323 or visit http://dyslexiaonline.com.