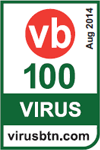 Outpost Security Suite delivered flawless detection the malware samples without a single false positive
St. Petersburg, Russia (PRWEB) December 02, 2014
Agnitum, the PC security experts, are delighted to announce another well-earned Virus Bulletin certification on Windows 8.1. The tests had been performed in August 2014 yet the results were made official earlier this month. Outpost Security Suite Pro, ver. 9.1, won Agnitum's lab its sixth consecutive VB100 award (six entries – six passes).
Due to the amazingly high number of entrants, Virus Bulletin Lab had to split the competing products under the enterprise and consumer categories. Eight out of thirty-four solutions failed the consumer product test with certain issues in the WildList or clean sets, whereas Outpost Security Suite delivered flawless detection of the malware samples without a single false positive.
Agnitum's virus lab joined the club of prominent AV vendors two-and-a-half years ago by inheriting and remodeling a third-party engine. The record pace and high motivation of the team allowed Outpost solutions to reach and overcome the high industry standards.
Agnitum's lab is now an active contributor to sample exchange networks and the WildList. Agnitum team has attended a host of security events in the last years, including CARO Workshop, AMTSO meetings and VB2012-2014 conferences.
Agnitum's Outpost Security Suite Pro includes:

Antivirus for accurate detection and fast scanning speed.
Firewall against hacker attacks and data leaks.
Proactive Protection to blocks new and sophisticated malware even before an antivirus can identify it.
Mail Scanner to makes sure a user's inbox is free from viruses.
Anti-banner to eliminate the unnecessary content on the web.
The current Outpost 9 product line offers:
Malware clean up and full-scale program deployment on infected systems.
Optimized detection of potentially unwanted applications.
New search categories for malware and potentially unwanted applications, and much more.
About Agnitum
Founded in 1999, Agnitum Ltd. (http://www.agnitum.com) has been committed to delivering and supporting high-quality, easy to use security software for 15 years. Agnitum's commercial solutions for the home market are Outpost Security Suite — an all-in-one Internet security solution, and the standalone Outpost Firewall Pro and Outpost Antivirus Pro, securing personal and family computers. Dedicated to global e-security, Agnitum also offers free versions of Outpost Firewall and Outpost Security Suite to secure users' system, network connections and critical data. Outpost Network Security ensures centrally-manageable endpoint protection and reliable performance for SMBs, and Outpost Antivirus Service provides antivirus protection via monthly subscription to ISP subscribers.
For more information and to request review copies of Outpost Pro 9.1, please contact: