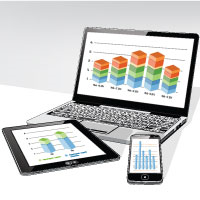 The new report displays in MyPreferences make it easier than ever to visualize campaign performance and preference trends
Atlanta, Georgia (PRWEB) December 03, 2014
PossibleNOW, the leading provider of customer engagement and enterprise preference management solutions, today announced enhancements to its MyPreferences® suite including new reporting options and graphical data displays. The custom MyPreferences report options are delivered through a partnership with Domo, a cloud-based executive management platform.
"Effective customer engagement hinges on a company's ability to understand and interpret customer behavior," said Robert Galop, Senior Director of Product Architecture at PossibleNOW. "Our new report display and customization options make it easier than ever to visualize campaign performance and preference trends. Armed with better reporting, CMOs spend less time analyzing and more time delivering targeted campaigns."
With the new enhancements unveiled today, companies using the MyPreferences platform can:

Access custom reports based on their specific requirements such as campaign efficacy and trends in profile and preference related data
Add third-party sources to regular reporting
See reports in easy-to-understand data visualization formats and
Integrate the report data into other internal reporting systems
The new reporting tool is fully responsive and allows users to view MyPreferences reports on any device — desktop, tablet or smartphone.
About PossibleNOW
PossibleNOW, headquartered near Atlanta, Georgia, enables businesses to build lasting, profitable relationships with customers, partners and employees through preference management technology. MyPreferences®, our enterprise preference management platform, empowers companies to listen to and learn from their customers through the active collection and management of preferences such as product interest, channel preference and frequency of communication. MyPreferences easily integrates into existing applications such as CRMs and marketing databases. The MyPreferences platform's flexibility, security and compliance protections make it ideal for serving as the central repository for customer data inside the enterprise and for minimizing regulatory compliance risk. For more information, call (800) 585-4888 or (770) 255-1020, e-mail info(at)possiblenow(dot)com or visit http://www.possiblenow.com.
###