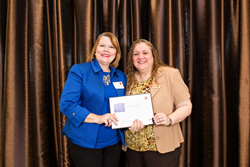 Wells Fargo Area President Scott Asher led the ceremony. "To some a $1,000 grant may seem small, but we know each of these great groups will be able to make a huge difference with this,"
Atlanta, GA (PRWEB) December 08, 2014
Ser Familia was honored by Wells Fargo with a $1,000 grant at the Days of Giving celebration in North Atlanta on Oct. 28 at the Marriott Perimeter Center.
Ser Familia was among 240 groups chosen by the bank's team members for the recognition across metro Atlanta. The donation helped push total giving to more than $1.5 million across Georgia since the program's beginning six years ago.
Wells Fargo Area President Scott Asher led the ceremony. "To some a $1,000 grant may seem small, but we know each of these great groups will be able to make a huge difference with this," he said. "And collectively this will have a major impact in our community."
Added Robert Dobbs, Wells Fargo business banking area manager, "This is one way we are trying to be the best local bank in Atlanta."
Wells Fargo also announced that its metro Atlanta employees gave or pledged $1.8 million this fall in the United Way and Community Support campaign – 24 percent more than last year.
About Ser Familia, Inc.
Ser Familia's mission is to strengthen, revitalize, and equip Latino families through educational programs that teach improved communication skills and relational commitment, empowering participants to thrive and enjoy a healthy family environment. Ser Familia offers a variety of programs that are aimed to help Latino families develop stronger bonds with one another and have a deeper connection. These include programs for couples, parents and youth, cultural proficiency training, and domestic violence awareness and prevention.
For more information:
Call 678-363-3079
Visit our Website: http://www.ser-familia.org
Facebook Page: Ser Familia, Inc.
Twitter: @serfamiliainc