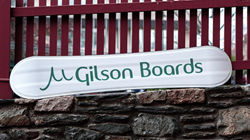 "Our unique contoured base is such a radical new concept, that you really have to ride it to understand how it can impact your experience. The WeBeGB Tour allows riders to test drive our technology." - Nick Gilson, CEO
Winfield, P.A. (PRWEB) December 02, 2014
Gilson Boards, a designer and manufacturer of artisan snowboards featuring a patent-pending contoured base design, today announced the launch of its WeBeGB 2014-2015 Winter Tour which will allow riders to test-drive Gilson Boards' patent-pending snowboards on their local mountains. For its second annual tour, the Gilson Boards team will barnstorm the country in a vintage 1976 Airstream trailer to introduce snowboarders to the one-of-a-kind Gilson design. Riders looking to explore the next-generation Gilson Boards can find the full tour schedule at: http://gilsonboards.com/news.
The WeBeGB Winter Tour begins its northeast leg at Gore Mountain in New York before heading to Vermont, New Hampshire and Maine. The team then returns to mountains in its home state of Pennsylvania visiting Camelback Mountain, Tussy, Seven Springs, and Hidden Valley before embarking on the west coast portion of the Tour through Colorado, Utah, Idaho, and Washington. Gilson Boards has partnered with mountains and resorts such as Copper Mountain, Telluride Ski Area, and Mount Shasta to create a space for resort guests to experiment with the newest technology in the snowboard industry as part of their resort stay.
"Our unique contoured base is such a radical new concept, that you really have to ride it to understand how it can impact your experience. Seasoned riders will quickly find they are shredding groomers, flying higher in the park and riding high in thick powder all with the same board; and novice riders will find that they are picking up the sport much faster than on a traditional ride," said Nick Gilson, CEO of Gilson Boards and inventor of the company's patent-pending designs. "The WeBeGB Tour allows riders to test drive our technology, but it is also an opportunity to actually meet and hang out with the core team that designed it. The personal interaction is invaluable to us as we strive to push this entire industry to be more attentive to its riders."
Launched late into last year's snow season, Gilson Boards is embarking on its first full snow season. Packing up from its new, expanded state-of-the art manufacturing facility in Winfield, PA, the Gilson team is eager to interact personally with riders and shops owners across the country.
For more information about Gilson Boards, the WeBeGB Tour or to customize a new board, please visit: http://gilsonboards.com/.
About Gilson Boards
Headquartered in Winfield, Pennsylvania, Gilson Boards designs and manufactures artisan snowboards featuring its patent-pending design technology. Developed by former-teenage garage tinkerer Nick Gilson, the hallmarks of the Gilson design are its Raised Central Region and its Soft Edge Technology. With this variable surface area design, Gilson Boards are able to outperform traditional alternatives in terms of acceleration, maneuverability and all-mountain versatility, yielding boards that are equally suited to park and trail as they are to backcountry and deep powder. More information on Gilson Boards is available at http://gilsonboards.com/.
###
Media Contact:
Zach Heath, Engage Communications
Email: zach@engagecoms.com
Phone: (401) 559-7350