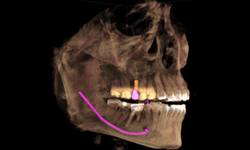 Our 3-D imaging is the bedrock of our One Day Smile Solution," Dr. Receveur said. "This technology increases our efficiently by providing the most accurate image of the patient's oral cavity, down to the smallest blood vessel."
NEW ALBANY, IN (PRWEB) December 10, 2014
Dr. Ronald Receveur, who provides comprehensive
New Albany cosmetic dental work, has written a blog championing the use of 3-D scanning technology in placing dental implants.
Dr. Receveur uses a 3-D CAT scan machine to better assess patients' dental needs and to map out complicated dental procedures like All On 4 dental implants at his New Albany contemporary dental implant center.
Dr. Receveur published the blog on his website, http://www.NewAlbanyImplants.com, on Dec. 4.
"Typical dental offices do not offer 3-D imaging. In fact, that typically requires a visit to your local hospital," Dr. Receveur said. "At our office, we don't ask our patients to travel all across town for treatment. We want to provide the best care possible in one location."
The 3-D imaging is part of Dr. Receveur's One Day Smile Solution, a method the New Albany dentist uses to give patient's dental implants in one day or to complete multiple treatments in one day with the aid of IV sedation.
"Our 3-D imaging is the bedrock of our One Day Smile Solution," Dr. Receveur said. "This technology increases our efficiently by providing the most accurate image of the patient's oral cavity, down to the smallest blood vessel."
Dr. Receveur is a New Albany and Louisville cosmetic family dentist that offers general dentistry such as teeth cleanings, X-rays, fillings, extractions, root canals, crowns, teeth whitening and veneers.
Dr. Receveur also has vast experience with providing New Albany All On 4 dental implants, All on Six dental implants, One Day Smile Solution, dental implants in one hour, bone grafting and sinus lifts, all with IV sedation dentistry. He has been restoring implants with prosthetics and complex dentistry for 25 years and surgically placing implants since 2008.
Dr. Receveur, a New Albany native, has been the family dentist of choice for Southern Indiana and Louisville since 1981.
Dr. Receveur graduated from Indiana University Southeast with honors in chemistry, after which he earned his doctorate in Dental Surgery from the Indiana University School of Dentistry.
Dr. Receveur has attended more than 5,000 hours of postgraduate training and even gone to Portugal to study with the best dentists in the world. He has been awarded numerous advanced certifications in Implant, Sedation, Comprehensive, Restorative and Aesthetic dentistry so he may provide the most current dental techniques to his New Albany and Louisville dental patients.
Dr. Receveur's associate, Dr. Frederick, graduated from the University of Louisville School of Dentistry. He has received additional training in cosmetic dentistry, endodontics (root canals), orthodontics and dental implants at the Midwest Implant Institute, and has completed dental sedation training.
Dr. Frederick was a dental lab technician before receiving his DMD. That gives him unique knowledge in cosmetic dentistry elements like crowns, bridges, veneers and smile design.
Dr. Frederick is a graduate of the University of Kentucky, where he was a member of the men's soccer team and received his Bachelor of Science in Biology. He graduated high school from St. Xavier in Louisville.
Those looking for New Albany teeth whitening should go to NewAlbanyImplants.com for more information.