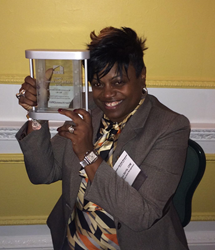 A well-deserved accolade, this award is a testament to Toni's leadership, inspiration, and her unwavering commitment to excellence.
Baltimore, Maryland (PRWEB) December 03, 2014
WPM Real Estate Management is pleased to announce that Latonia "Toni" Harris, Regional Property Manager for WPM Real Estate Management, received the 2014 CPM of the Year Award from Chapter 16 of the Institute of Real Estate Management (IREM). The prestigious CPM of the Year award recognizes outstanding service to the chapter, profession and/or community during the year by an individual Certified Property Manager, who thereby contributes to the advancement of professional property management.
Following eight years of military service after graduating high school, Toni began her 20 year property management career working for National Housing Partnership (NHP) as a Recertification Specialist. Her climb to success was propelled by superior performance. Advancing in her career she's excelled in various positions such as Leasing Manager, Property Manager, Marketing Director and Regional Property Manager. Toni is an Accredited Residential Manager (ARM) as well as a Certified Property Manager (CPM®). She has served in various leadership roles, but more recently was the President of IREM Chapter 16 of Maryland. Passionate about her love of professional development, Toni was also responsible for chartering two local Toastmasters Clubs where members improve their public speaking skills. She is currently an Executive Committee member with IREM Chapter 16, a member of the Advisory Board for the University of Baltimore school of Real Estate, an instructor for the CAM and CAPS course through MMHA, and an IREM Instructor Candidate. Toni has also received numerous awards throughout her career.
"We are excited that our industry peers have recognized Toni for her hard work and dedication to the profession," notes Leonard Frenkil Jr., President of Multifamily Real Estate at WPM. "A well-deserved accolade, this award is a testament to Toni's leadership, inspiration, and her unwavering commitment to excellence."
The Institute of Real Estate Management (IREM) has been educating and certifying real estate management professionals for over 60 years. IREM serves the needs of all real estate management professionals--managers of apartments and office buildings, asset managers, site managers, and property supervisors and management company owners and trains more than 6,000 real estate managers per year throughout the United States and Canada. IREM also advocates legislative positions that are in the best interest of real estate managers and management firms.
WPM Real Estate Management is an Accredited Management Organization® (AMO®) that provides property management for over 17,000 homes and 35,000 people in the Baltimore/Washington Metropolitan area. The company's primary focus is residential: multifamily, condominium, senior housing, student housing, and homeowner association communities. In addition, it has an extensive managed portfolio of commercial, industrial, and retail properties. WPM has been recognized as one of Baltimore's Top Workplaces by The Baltimore Sun, ranking among the top 5 large employers in both 2012 and 2013. The company employs approximately 400 employees, with 80 at the corporate office and more than 300 on location.
For more information about WPM Real Estate Management, visit the WPM website at http://www.wpmllc.com.