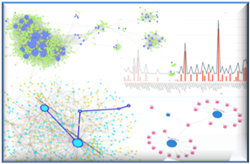 (PRWEB) December 04, 2014
Centrifuge Systems announced the general availability of Centrifuge Analytics v3, a 100% HTML5 browser-based visual data discovery link analysis product. With Centrifuge Analytics v3, users can instantly see results not possible with traditional business intelligence tools.
"Big data is here to stay and is quickly becoming the raw material of business," says Stan Dushko, Chief Product Officer at Centrifuge Systems. "Centrifuge Analytics v3 allows users to answer the root cause and effect questions to help them take the right actions."
Easy to Deploy: A 100% browser-based deployment model that can be installed on a standalone laptop, an enterprise server or a cloud-based solution. The user is up and running in a few minutes.
Simple to Use: With just a few clicks, users can easily see patterns and connections in their data previously not visible.
Powerful Visuals: A multi-layered and fully integrated visual environment where users can quickly navigate and explore large data that needs further attention or immediate action.
Amazing Response: A tenfold improvement in response time with large relationship network visuals.
Instant Data Access: No need to stage or conform to predefined data format; simply pull the data into Centrifuge and start visualizing.
Extendable: When source data isn't quite complete, simply add the information directly to the graph visual and immediately see the impact.
"Centrifuge exists to help customers with critical missions, from detecting cyber threats to uncovering healthcare fraud," says Simita Bose, Chief Executive Officer of Centrifuge Systems. "Centrifuge Analytics v3 is an incredibly innovative product that represents a breakthrough for big data discovery."
About Centrifuge Systems
Centrifuge Systems is a leading provider of big data discovery software. Our unique approach to finding the needle in the haystack brings together three compelling innovations to the problem: a unique link analysis perspective, cutting edge interactive visualization, and fully browser accessible environment.
Traditional BI solutions require users to define what they want to see in advance and present the results in static dashboards. With Centrifuge, users determine what is of interest on the fly then explore the displays directly in an interactive fashion. The experience is easy-to-use and the resulting insights are extraordinary. Centrifuge supports some of the most demanding applications in the world, including cyber security, counter-terrorism, homeland defense, insurance fraud, healthcare misuse and financial crimes analysis.