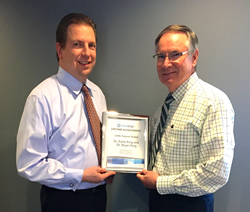 Dr. Bryan King [left] and Dr. Earle King [right] proudly holding their Lifetime Achievement Award
Pittsburgh, PA (PRWEB) December 03, 2014
King Orthodontics blew the national competition out of the water helping over 3,000 people straighten their smiles. Invisalign® awarded the Lifetime Achievement Award to Dr. Earle King and Dr. Bryan King.
The Invisalign Summit has distributed four Lifetime Achievement Awards in the United States. The awardees have treated over 3,000 patients with Invisalign®, and King Orthodontics was one of four to meet this numeric goal.
"King Orthodontics has made Invisalign® an important part of their practice and should be extremely proud of their accomplishments," said Cristen Josefoski, Territory Manager for Invisalign®. "They [Dr. Earle and Bryan King] are truly leaders of Invisalign® submissions in the Pittsburgh market. It has been a pleasure to work with them over the last three years."
Invisalign® is a break-through product that avoids the discomfort, hassle, and visibility of traditional braces. This product is suitable for all ages from children to adults, and only entails visits to the orthodontist every six weeks for a new set of aligners.
As one of the first providers of Invisalign® in 1998, the King's has proven themselves to fit into the elite group of orthodontists involved with Invisalign®, and even lead the Pittsburgh market. With the dedication of the entire office to this product, King Orthodontics continues to excel with the number of treated patients.
About King Orthodontics:
King Orthodontics has over 30 years of helping the Pittsburgh area, children and adults, achieve confident smiles. Drs. Earle and Bryan King are father and son running the prestigious orthodontic offices in Pittsburgh (1980) and Wexford (2006). Both Dr. Earle and Dr. Bryan are certified orthodontists.
For more information, please visit http://www.kingorthodontics.com.
###