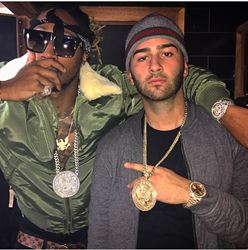 He was in shock to see his new stuff. It's a huge upgrade, you know?
New York, NY (PRWEB) December 04, 2014
In celebration to his recent birthday, rapper and record producer, Future reached out to Elliot of Avianne & Co. to place some of his new custom orders. He wanted to gift himself with an all-white diamond on an all-white gold set. This particular order took the jewelers at Avianne & Co. around 30-days to complete.
The finalized set includes, a 12-Carat Diamond Pinky Ring, an iced out, 30-Carat Day-Date II Presidential Rolex watch and an upgraded version of his original Freebandz pendant. Future custom made his first Freebandz pendant back in the beginning of 2013, it was made in 18K yellow gold surrounded with brilliant cut white diamonds. This time he decided to create the same pendant but upgrading it in white gold surrounded with 84-carat white diamonds. Known his extensive collections of men's diamond jewelry, Future mentioned how dear these pieces are to him, these pieces reflect the success in his career and the upgrade Freebandz Records has received over the years.
Founded in 2011, Freebandz Records is an energetic record label that caters to the current hip hop's scene and generation. While only a few years old, the label is backed by international powerhouse, Sony Music Entertainment's Epic Records. Over the years the record company has produced music by exciting new artists, making this a significant project for the craftsmen at Avianne & Co.
"He was in shock to see his new stuff. It's a huge upgrade, you know?" mentioned Elliot returning from his brief visit to Amsterdam. Elliot flew to Amsterdam to catch up with Future to attend his good friend's concert in Rotterdam. Future also gave Elliot a shout out on his Instagram account showing much adoration to his new charms.
The designers and jewelers at Avianne & Co. are constantly developing and designing exciting new pieces to bring their loyal customer's ideas to life. While several companies offer similar services, it's the personalized approach, atmosphere, and overall experience that make the services provided by Avianne & Co. invaluable to artists and entertainers all over the world.