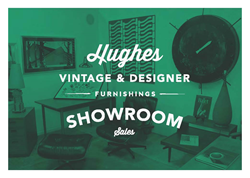 Hughes is my favorite place to shop estate sales...the selection is fabulous, you never know what treasures will be there...so fun!
Los Angeles, CA (PRWEB) December 16, 2014
Hughes Estate Sales in Los Angeles announces the Grand Opening of their Vintage & Designer Furnishings Showroom in the heart of the Downtown Los Angeles Arts District. In a converted industrial warehouse, the Showroom brings Hughes' hip brand of vintage consignment furniture, fine art, and designer decor within arms reach of the thousands of loft dwellers, designers, artists, and urban professionals who call Downtown home. Located at 458 S. Alameda Street, Los Angeles, CA 90013, the Showroom is walking distance of cafes and coffee shops, making it a great weekend shopping destination. Situated at 5th and Alameda, the Showroom is just a few blocks from the 10 and the 5 Freeways, making it an easy jaunt from the Westside. The 3-day sale starts the third Friday of every month.
The Hughes Showroom Sale features thousands of items for sale on consignment from the best vintage and designer estates in Los Angeles, including fine art, high-quality contemporary and vintage furniture, décor, lighting, costume and fine jewelry, vehicles and other valuable consignment furnishings.
Hughes has provided estate sales in Los Angeles since 1978. Their estate sales services include the sales of consignment furniture, vintage car sales, and estate liquidation of entire household or partial estates. Showroom Sales are also held at their Altadena, CA Showroom on the first 1st Friday of every month.