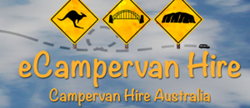 We hope our website makes your trip a little more enjoyable.
(PRWEB UK) 4 December 2014
Making a decision about who to rent a campervan from in Australia can be a very important one. Not only is there the price of the rental to consider, but no one wants to see their holiday or trip ruined by ending up stuck with a campervan that doesn't live up to their expectations. Performing the right type of research ahead of time can save a traveler a lot of unnecessary grief and heartache. Aptly answering this concern is the new independent website eCampervanHire.com.au, which provides an extensive list of reviews and comparisons of campervan rental companies that are currently active in Australia today.
The site was started by Tim Ahern, a traveling enthusiast who, while crossing Australia with his wife and dog, began noticing just how many motorhome and campervan companies there were, and how reliable information about them was few and far between. After a bit of research and brainstorming, Tim had decided that he could deliver a superior online experience to those who are looking for this type of information, and work on the review and comparison site begun.
"The vision of eCampervanHire is to allow even the most novice traveler to feel confident and informed about the true freedom that journeying in a campervan can give," commented the site's founder. "Through supplying unfettered and unbiased information before travel and providing a platform to voice opinions after travel, we feel this can be achieved."
The search engine on the site allows users to search by country, city or by name making it both very efficient and simple to use. This greatly relieves the strain of having to use other resources to hunt down campervan information and also removes the doubt on whether the information provided is coming from a truly independent source, or somewhere else.
Any booking made while visiting the site are done through a third party booking engine. The booking engine is not the property of the site, but is considered by experts to be one of the most advanced of its kind, and does the best job comparing prices of multiple campervan sites to deliver to users the best bargains currently available.
Another great feature of eCampervanHire.com.au is a very active blog in the "Travel Feature" section which provides actionable tips, useful suggestions and trip ideas for its readers. Recent articles have touched on things like hiring a campervan in Hobart, what to see in Alice Springs, an exposé of fines and tolls in Australia and much, much more.
The response to the new site has been overwhelmingly positive.
Douglas P., from London, recently said, "I'm very happy to have found eCampervanHire.com.au at just the right time. I was planning a month long vacation with my family driving across Australia and picking the company to rent a campervan from was a serious headache until I came across the website. I was able to make a decision in under an hour, and everything worked out wonderfully. Thank you for helping me have the best holiday ever. Five stars."
For more information visit http://ecampervanhire.com.au/.