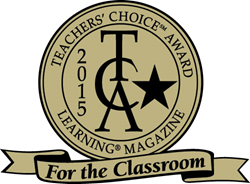 This is the third major award for Nepris this year.
Dallas, TX (PRWEB) December 03, 2014
Learning Magazine recently announced that Nepris is a winner of the Learning® Magazine 2015 Teachers' Choice (SM) Award for the Classroom. Nepris—a cloud-based platform connecting STEM (science, technology, engineering and math) professionals with teachers—manages the end-to-end process including matching professionals' skills to teachers' needs and hosting the interactive sessions that bring STEM relevancy to the classroom. Click to Tweet.
For 20 years, Learning magazine has selected the best classroom-tested, teacher-recommended products. Nominated products are judged by a national panel of teachers who evaluate the products through two rounds before picking the winners, which are featured by Learning magazine.
Nepris makes it possible for industry professionals from a diverse set of career clusters to discover, connect and share their skills and experiences with K-12 classrooms without leaving their office. Teachers submit a request at Nepris.com and specify the desired outcomes and learning standards to be addressed. Nepris compares the teacher's needs to skills of hundreds of professionals already registered in Nepris and then virtually connects the two for a virtual interactive discussion creating real-world relevance and inspiring students about STEAM careers. Nepris provides relevant information to prepare professionals for virtual interactions, gathers feedback from all stakeholders after a session and continuously refines the process of matching the right professionals to classrooms that need them.
"This is the third major award for Nepris this year and we are extremely honored to be receiving such accolades from the Teachers' Choice Awards," said Sabari Raja, CEO and founder of Nepris. "Nepris is a simple and practical solution to what has been a real problem for K-12 education: getting working professionals and subject matter experts to speak in schools. Nepris has created a platform that has made it possible for teachers and students to access a world of professionals at their fingertips."
Professionals and educators can see archived sessions and enroll their company or school at Nepris.com. Companies can sponsor teachers, schools or districts. Individual teachers from elementary, middle or high schools can sign up for a free trial at any time.
About Nepris
Dallas-based Nepris brings STEM to life (and now STEAM, which adds the Arts to science, technology, engineering and mathematics) by connecting professionals with teachers who need speakers or project mentors for interactive, cloud-based sessions. Nepris makes this a turn-key process: identifying and registering professionals and teachers, matching professionals' skills to the teachers' needs, advising on best practices for classroom interaction and then hosting the interactive sessions. See Nepris in action at Nepris.com/webinar or sign-up as a teacher or STEAM professional at Nepris.com.