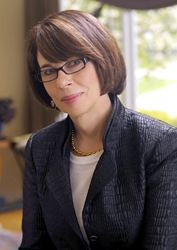 Heirloom quality, Mary Jurek Design stainless steel tableware is durable, dishwasher safe and visually timeless to last a lifetime.
Torrance, California (PRWEB) December 03, 2014
Who: Mary Jurek of Mary Jurek Design
What: Personal appearance to introduce her stainless steel works of art and tableware
Where: Neiman Marcus at Fashion Island Shopping Center, 601 Newport Center Drive, Newport Beach, CA 92660; Gifts and Home, Level 3
When: Saturday, December 6, 2014, noon to 4 p.m.
Why: Opportunity for customers to meet this award-winning designer, learn more about the ancient tradition of metal working and how to use Mary Jurek Design collections, and choose the perfect tableware and gifts for holiday and weddings.
Award-winning stainless steel designer Mary Jurek makes a special appearance this Saturday, December 6, noon to 4 p.m. at Neiman Marcus at Fashion Island in Newport Beach—just in time for holiday shopping and entertaining. Jurek will introduce customers to her hand-hammered organic designs—a happy marriage of silvery smooth surfaces and sophisticated shapes. Heirloom quality, these home accessories are durable, dishwasher safe and visually timeless to last a lifetime of entertaining. Jurek will also hand-engrave purchases for customers.
Perfect for holiday entertaining and gift-giving, Mary Jurek Design's varied and numerous tableware collections boast something for everyone; from candlesticks to serving trays to barware, each piece stands alone as a stunning focal point yet plays well with others. Unique holiday ornaments—hearts, stars, and doves, along with sparkly trays light up any home's gathering, or as gifts, the eyes of the beholder.
"We look forward to meeting our stainless steel tableware lovers, introducing customers new to our designs and offering tips on how to use our products," says Jurek. "I'll share details about our hand crafting process, the tradition of metal work and how to choose the best pieces for the home, as gifts and for entertaining."
All products are hand-made by artisans throughout the world with direct creative input from Mary. Each piece is individually cut from 18/8 stainless steel. A repetitive blow from a hammer begins to drive the metal into its design and is repeated until the final form is achieved. Then each piece is hand-polished to a lustrous finish and engraved with Mary's stamp. The original beauty of the newly minted piece will stay as visually inspiring over a lifetime of service. All tableware is food safe, dishwasher safe, freezer friendly, warming to 200 degrees, environmentally friendly, and never needs polishing.
About Mary Jurek Design
Mary Jurek Design, Inc. is a Los Angeles-based luxury goods company that creates and distributes fine stainless steel tableware and home décor products to retail stores throughout the United States, Canada, Mexico, Middle East, UK and the Caribbean. Founded by award-winning jewelry and watch artisan, Mary Jurek, the company juxtaposes hand-hammered stainless steel with a soft, organic flare to create an 'old world meets modern day' style that appeals to luxury lifestyle enthusiasts everywhere. For more, visit http://www.MaryJurekDesign.com.