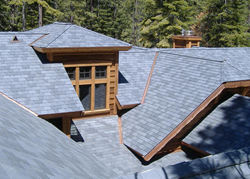 Lenexa, Kansas (PRWEB) December 05, 2014
National color expert Kate Smith predicts that gray will be the rising color choice for roofs across America in 2015. Working with DaVinci Roofscapes, Smith believes aging baby boomers and their complete comfort with growing older will lead this marketplace trend.
According Smith, with the youngest baby boomers now in their 50s, the generation that redefined traditional values is now making new rules for how homeowners live during the second half of their lives. The boomers, always seen as different from those who had come before, appear very comfortable simply being themselves. More grounded and balanced than they were as teens, the boomers are embracing "going gray" and doing it differently than their parents and grandparents.
Owning the majority of homes in America and having the resources to remodel and redecorate means that boomers wield influence that has been unmatched by previous generations of seniors. Gravitating towards gray --- in all of its many shades --- combined with warm neutrals, sets the stage for people to personalize a home color scheme that is as unique as those who rocked the 60's.
"Refined and elegant gray is not only accepted in today's society, but an extremely popular choice," says Smith, president of Sensational Color. "From embracing natural graying hair to topping off the house with a gray slate roof, it's hard to go wrong with gray."
The color trends forecaster believes that the introspective side of soul searching by baby boomers is reflected in them placing more value on their time, relationships and privacy. "A simpler palette of colors -- gray, beige, ethereal blue or green combined with deep brown or black -- give us the foundation for exploring ourselves and the world around us from the sanctity of our home," says Smith, who serves as a color consultant for DaVinci Roofscapes.
Mixing It Up
Smith, who authored the "FRESH Color Schemes for Your Home" and "FRESH Exterior Home Colors" e-books available free from DaVinci, sees today's homeowners as having a "renewed sense of self" that instills a feeling of exuberance at living life.
"Whether close to home or around the world, a taste for the exotic and unknown captivates our imagination and design sense," says Smith. "Complex patterns, intricate designs, mosaic tiles, embossed leather and decorated metals combined with weathered or toned down bright colors such as Frank Blue, Nifty Turquoise or Cranapple, visually help communicate our enthusiasm for life.
"These are expressive and playful colors, with a dash of bohemian and a pinch of sophistication. Adding one of these confident colors to a home exterior area, like the front door or trim, can update any home scheme and create a joyful feeling every time residents come home. The addition of a storm gray or classic gray polymer slate or shake roof overhead caps off this feeling of security and stability in the home by uniting the entire exterior.
"Bringing together many different textures and colors seamlessly -- slate or shake-looking roof tiles, partial stone facades or perhaps copper accents -- is one of the ways this trend is influencing the look of home exteriors. Mixing materials works best when homeowners and designers take into consideration the whole house exterior and its surroundings while they work out their color scheme."
The experienced team members at DaVinci Roofscapes develop and manufacture industry-leading polymer slate and shake roofing systems with an authentic look and superior performance. DaVinci leads the industry in the greatest selection of colors, tile thickness and tile width variety. The company's reliable products have a 50-year limited warranty and are 100 percent recyclable. All DaVinci high-performing roofing products are proudly made in America where the company is a member of the National Association of Home Builders, the National Association of Roofing Contractors, the Cool Roof Rating Council and the U.S. Green Building Council. For information call 1-800-328-4624.