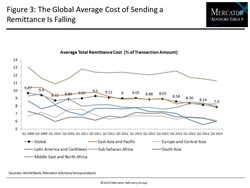 The history of disruptive innovation in the last half-century, suggests that dismissing potentially game-changing technologies as unsuited to present needs is a sure way to be rendered obsolete in the future.
Boston, MA (PRWEB) December 04, 2014
Cross-border remittances are expensive, especially for those who can least afford it to be: the unbanked and the underbanked. For Bitcoin enthusiasts, this represents one of the digital currency's most important use cases. By bypassing the expensive fees and onerous regulatory requirements of international correspondent banking channels, the backbone of global money transmission today, Bitcoin-backed remittance evangelists claim they will both do good and make a profit.
The other model that seeks to displace traditional consumer remittance service providers uses peer-to-peer algorithms to match individuals with reciprocal currency needs across borders. TransferWise, one of the pioneers of this model, promises to charge a fraction of what banks do today to move money between countries.
Mercator Advisory Group's most recent research report, A SWIFT Disruption? Bitcoin and Peer-to-Peer Models Challenge the Remittance Business, analyzes the value proposition offered by these new models by focusing on two specific remittance corridors, U.S.-Philippines and U.S.-India. It analyzes data on total costs for different transaction sizes and compares these to incumbent competitors. What's common to both these disruptive models and what separates them from the incumbents in the consumer remittance space is that neither relies on the international correspondent banking channels, which are underpinned by SWIFT—a secure financial messaging system—in order to effect the movement of monetary value across borders.
"For established consumer remittance behemoths like Western Union and MoneyGram and for banks that generate substantial revenues from their wire transfer business aimed at corporate and affluent consumers, these challengers may be easy to dismiss either because their business model is unproven (as in the case of Rebit) or their market share is still fairly limited (as in the case of TransferWise). The history of disruptive innovation in the last half-century, however, suggests that dismissing potentially game-changing technologies as unsuited to present needs is a sure way to be rendered obsolete in the future," comments Nikhil Joseph Analyst, Emerging Technologies Advisory Service, at Mercator Advisory Group and author of the report.
Highlights of this report include:

Identification of the key trends in cross-border consumer remittances including analysis of global transactions costs across different corridors
Breakdown of how the international correspondent banking system works and the role SWIFT plays
Explanation of how Bitcoin's blockchain technology works and why it can be a disruptive force in enabling cross-border payments
Review of the value proposition offered by Bitcoin-backed remittance player Rebit in the U.S.-Philippines corridor
Explanation of how the peer-to-peer model works in facilitating cross-border remittances and analysis of TransferWise's value proposition in the U.S.-India corridor
Review of innovative startups with the potential to disrupt the global consumer remittance market
This report contains 24 pages and 12 exhibits.
Companies mentioned in this report include Currency Cloud, CurrencyFair, Rebit, Remitly, Ripple, TransferWise, WorldRemit, BitPesa, Western Union, and Xoom.
Members of Mercator Advisory Group's Emerging Technologies Advisory Service have access to this report as well as the upcoming research for the year ahead, presentations, analyst access, and other membership benefits.
For more information and media inquiries, please call Mercator Advisory Group's main line: (781) 419-1700
For free industry news, opinions, research, company information and more visit us at http://www.PaymentsJournal.com.
About Mercator Advisory Group
Mercator Advisory Group is the leading independent research and advisory services firm exclusively focused on the payments and banking industries. We deliver pragmatic and timely research and advice designed to help our clients uncover the most lucrative opportunities to maximize revenue growth and contain costs. Our clients range from the world's largest payment issuers, acquirers, processors, merchants and associations to leading technology providers and investors. Mercator Advisory Group is also the publisher of the online payments and banking news and information portal PaymentsJournal.com.