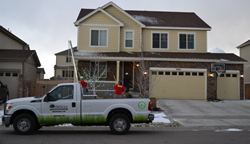 "Making Spirits Bright was built around the idea of giving back to the community, which is a fundamental principle for everyone at Swingle," say Swingle's CEO Tom Tolkacz.
Denver, CO (PRWEB) December 04, 2014
To kick-off the season, Colorado's premier holiday lighting vendor, Swingle Lawn, Tree & Landscape Care, decorated the homes of two deserving families along the Front Range. Swingle's Making Spirits Bright campaign allowed people to nominate a family facing hard times, and based on those nominations the company selected two families to receive holiday lighting for their homes.
"Making Spirits Bright was built around the idea of giving back to the community, which is a fundamental principle for everyone at Swingle. Our goal was to make a difference this holiday season, and we feel that our campaign achieved that. We only wish we could do more," says Swingle's CEO Tom Tolkacz.
Swingle truly considers the company fortunate to have the opportunity to brighten the spirits of two very deserving families: young Payton, a 6-year-old girl in Centennial who's battling leukemia, and 18-month old Charlie in Fort Collins who suffers from Aniridia - a rare genetic condition. Each nomination shared the realities of the day-to-day struggles these families continually face, and because of their endurance Swingle chose them as this year's Making Spirits Bright recipients.
Swingle's professional team members went out to meet with both families in order to design a holiday lighting display fitting the style and character of each home. Swingle crews worked diligently to make sure that everything came together perfectly and seamlessly, and because of that dedication it was a magical night for two local families.
Payton was completely surprised when Princess Elsa showed up at her doorstep to light up her very own ice castle, which was adorned with frosted white and pink lighting. Charlie looked on in amazement at the 65-foot "Christmas" tree in his front yard – gleaming with thousands of multi-colored lights strung from top to bottom.
In addition to the special holiday lighting, each family was also provided a handful of Christmas presents for each and every child in the home.
"We were overwhelmed and inspired by the heartfelt stories we received this year. Swingle is in the business of making peoples' lives more enjoyable through the services we provide. Making Spirits Bright takes it a step further and is a great example of our longstanding commitment to giving back to our community," says Swingle's President John Gibson.
Swingle recognizes the incredible difficulties many families face during the holiday season. Making Spirits Bright first began as a simple idea and has become much more. This is the season of giving, and even a simple gesture can have a wonderful impact on those facing hard times during the holidays.
An anonymous nominator said, "I just want to commend Swingle for thinking about others who are less fortunate around Christmas in the money department, but may be very fortunate in their spirituality. What joy you will be giving those people."
About Swingle Lawn, Tree & Landscape Care
Founded in Denver in 1947, Swingle Lawn, Tree & Landscape Care has grown to be the one of the largest residential and commercial lawn service and tree care companies in Colorado, employing more certified arborists than any other Colorado company. For information please contact Kellie Houghtaling (303) 337-6200 or visit http://www.MySwingle.com/contact.