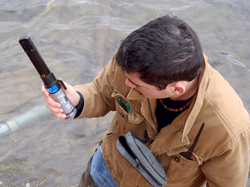 Bourne, MA (PRWEB) December 05, 2014
Hydraulic fracturing, the process of injecting water and chemicals into shale to release natural gas, holds promise for addressing both energy and employment challenges in the United States. Experts estimate that the Marcellus Shale in New York and Pennsylvania alone could satisfy as much as 14 years of U.S. natural gas consumption and create nearly a quarter million jobs. However, hydraulic fracturing, commonly known as "fracking," also brings risk of environmental contamination from salty flow-back water containing potentially toxic and carcinogenic chemicals.
To protect against negative byproducts of hydraulic fracturing, the Delaware River Basin Commission (DRBC) turned to cost-effective HOBO® U24 Conductivity Data Loggers from Onset, a Massachusetts-based company. Although gas development in the Marcellus Shale continues to remain outside the Delaware River Basin, in 2011 the DRBC began using the data loggers to measure the baseline water quality in rivers in anticipation of future work there. Then, when gas development does begin, the DRBC can quickly identify any changes and react if problems arise.
The DRBC chose the HOBO data loggers for their accuracy, reliability and affordability. Since deploying the loggers in January 2011, they have performed consistently while tolerating harsh weather conditions, branches, and other objects moving downstream. As of October 2014, the loggers had collected nearly 500,000 specific conductance measurements in water bodies in the Delaware River Basin, with the data indicating that different streams in the same region have different conductivity distributions.
"The loggers have proven to be an inexpensive solution for high-risk deployment," says John Yagecic, environmental engineer and section supervisor at DRBC. He adds, "The HOBO Waterproof Shuttle's optical interface allows us to easily download data in the field."
The HOBO U24 Conductivity Logger is a high-accuracy, cost-effective data logger for measuring conductivity and temperature in streams, lakes, and other freshwater sources. In particular, electrical conductivity levels in water can indicate contamination. By defining the range and variability of specific conductivity measurements before gas development occurs, the DRBC will have the information to take immediate corrective action if water resources in the Delaware Basin are affected by future hydraulic fracturing.
"The Delaware River Basin Commission is taking a leadership role in monitoring the potential impact of natural gas development to help preserve area rivers," said Paul Gannett, Onset product marketing manager. "We are excited to be able to provide the DRBC with a reliable and affordable way to measure water conductivity levels prior to natural gas drilling."
Expected next steps for the DRBC include possibly adding more monitoring sites. "When gas development does commence, data from the HOBOs will be invaluable for knowing the pre-gas condition," says Yagecic.
ABOUT ONSET
Onset is a leading supplier of data loggers. The company's HOBO data logger and weather station products are used around the world in a broad range of applications, including building energy performance monitoring, water resources management, and ecological and agricultural research. Based on Cape Cod, Massachusetts, Onset has sold more than 2.5 million data loggers since the company's founding in 1981. Visit Onset on the web at http://www.onsetcomp.com.
###
READER CONTACT
Onset Computer Corporation
1-800-564-4377 / 508-759-9500
http://www.onsetcomp.com
sales(at)onsetcomp(dot)com