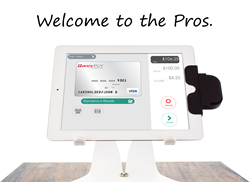 QwickPAY Pro helps merchants to prevent fraud and simplify their PCI audit requirements.
Seal Beach, CA (PRWEB) December 04, 2014
MagTek, Inc., an industry leader of secure payment technology, announced the launch of QwickPAY Pro, a professional point-of-sale solution made exclusively for the iPad.
QwickPAY Pro delivers convenience while eliminating sensitive card data from the application. It is available for free in the App Store, and it works with MagTek's Made-for-Apple certified mobile card readers, secured by MagneSafe™.
"MagTek's new app allows us to offer our merchants a new set of features for accepting credit and debit cards on an iPad," said John Leehy, CEO of Payment Alliance International, a premier QwickPAY reseller. "Small to medium businesses should be able to focus more on their customers than PCI compliance, and QwickPAY Pro allows them to do just that."
Mimi Hart, president and CEO of MagTek, noted "QwickPAY Pro extends the value of the QwickPAY product line by targeting merchants wanting a larger, tablet-sized user interface while continuing to leverage the protection offered by the MagneSafe Security Architecture. By combining the app, the card reader and card processing services, resellers like Payment Alliance International have the opportunity to confidently resell the entire QwickPAY platform helping merchants to prevent fraud and simplify their PCI audit requirements."
Download and test the app from the App Store, or for more info and a list of new features visit http://www.qwickpay.com/pro.html.
About MagTek
Founded in 1972, MagTek is a leading manufacturer of electronic systems for the reliable issuance, reading, transmission and security of cards, checks, PINs and identification documents. Known for quality and dependability, MagTek's products are used worldwide by financial institutions, retailers, and processors to provide secure and efficient payment and identification transactions.
Today, MagTek continues to innovate. Its MagneSafe™ hardware architecture leverages strong encryption, secure tokenization, dynamic card authentication, and device/host validation enabling users to assess the trustworthiness of credentials and terminals used for online identification, payment processing, and high-value electronic transactions. MagTek is headquartered in Seal Beach, CA. For more information, please visit http://www.magtek.com or follow us on Facebook and Twitter.
About Payment Alliance International (PAI)
Payment Alliance International (PAI) is one of the nation's largest deployers of ATMs, provides ATM processing and maintenance services, ATM equipment sales and support, and ATM branding programs. PAI also offers comprehensive payment and small business solutions including credit, debit and prepaid card acceptance services…all designed to maximize customer success and make business easy. Payment Alliance International is based in Louisville, Ky. For more information, please visit http://www.GoPAI.com or follow us on Facebook and Twitter.