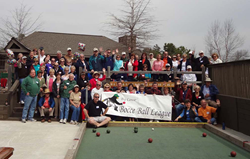 Bocce Ball League Crowns Champion
Atlanta, Georgia (PRWEB) December 06, 2014
With over 150 bocce ball club members, Big Canoe in Jasper Georgia is a trendsetter in master planned communities. In November, the Big Canoe Bocce Ball League crowned its fall season champion, the team Kiss Our Pallino team. After the competition, 70 club members met at the Lake Sconti clubhouse for an evening of fun and celebration. Big Canoe has 3 bocce courts at the Wildcat Recreational Center and keeps members informed on the club's dedicated website. There are two seasons, one in the Spring and the other in the Fall when tournaments are held. In addition to the tournaments, there is a "Bocce Camp" that is free for all attendees which is held prior to the Spring and Fall Seasons. All players who join the league are required to attend to learn the game and to get an overview of league rules. During the season, there is "free bocce night" held on Monday evenings for neighbors to socialize and experience the fun that bocce has to offer. Before the start of each season, the league offers these camps along with a potluck dinner to encourage folks to participate. There is a tournament for both seasons with awards given to the League Champions at an awards ceremony held each season. The Spring 2015 season kicks off in March and the Fall Season starts September 1 and no experience is required to participate.
The gated community of Big Canoe is situated on over 8,000 acres of land with 22 miles of lush forest hiking trails and is adjacent to Dawson Forest Wildlife Management Area, a Certified Wildlife Habitat by the National Wildlife Federation. Baby Boomers searching for a place to retire in Georgia would be wise to consider Big Canoe. This best master planned community in the Blue Ridge Mountains of Georgia, has the convenience of onsite restaurants, fitness and wellness amenities, a chapel for worship, all within the gates of this friendly neighborhood. Just outside the Big Canoe gates is a strip shopping center with an IGA grocery store, retail shops and a private school. From spring to summer, on every Saturday, local vendors cater to Big Canoe residents selling farm fresh vegetables, fruits, homemade cheeses, jams, jellies, baked goods, pottery to handmade jewelry at the Village Festival just beyond the gated entrance. There are more than 50 friendly social clubs at Big Canoe to ensure residents will always have something fun to do.
Trend setting Baby Boomers at retirement that have taken up the sport of "bocce ball" have discovered how easy and fun it is to play. Bocce ball requires patience and precision skills to succeed in this ancient game. Believed to have originated over 7,000 years ago with Egyptians throwing a round rock at a smaller one, the evolved version follows the same principle of play. The game starts when the selected team player throws the "pallino"(which is a small ball thrown first) which then becomes the target for the game. Each game has a total of 9 balls, one small ball the "pallino" and 8 "bocce" balls with four going to each team. The "pallino" is thrown first then each Bocce is played with the goal of placing it as close to the "pallino" as possible. The object of Bocce is to get as many of the bocci (plural bocce) as close to the "pallino" as possible. The competitor that gets the closest to the "pallino" scores a point.
The equipment for bocce ball is relatively simple. There are 8 balls (bocci) approximately 4 inches in diameter that weigh about 2lbs. each and 1 "pallino", which assimilates a pool ball. The game can be played with 2 to 4 players and it is recommended to have a measuring tape nearby when the tosses get competitive. Usually, the first throw is awarded by a coin toss with each team rotating throws until all balls have been thrown. Only one team scores points during a single frame and each team can score up to 4 points if all bocci balls are closest to the target pallino.
Though it sounds complicated, the sport is easy to learn and a great social activity enjoyed by individuals of all ages and fitness levels. It has become an increasingly popular past time for people entering their retirement years and builders across the country have taken notice of the surge of interest and have insured that this new sport is available in their communities. Real Estate Scorecard found six master planned communities that feature "bocce ball" states Big Canoe is on the top of the list.
About Real Estate Scorecard:
Real Estate Scorecard writes unbiased real estate reviews providing in-depth information about popular gated communities in Florida, Georgia, North Carolina, South Carolina and Tennessee, all in an effort to help people discover where to retire in the Southeast.
Website: http://realestatescorecard.com