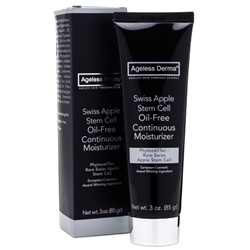 Dr. Mostamand says, "The Swiss Apple Stem Cell Oil-Free Continuous Moisturizer is a multi-beneficial product that protects skin and works to smooth lines and wrinkles
Irvine, California (PRWEB) December 08, 2014
The Ageless Derma skin care company has added a moisturizing product to their line that provides continuous hydration to skin throughout the day. The Swiss Apple Stem Cell Oil-Free Continuous Moisturizer uses rare Swiss apple stem cells in combination with other natural substances to aid in skin's retention of moisture for a lessening of fine lines and a silky, more comfortable feeling.
The Swiss Apple Stem Cell Oil-Free Continuous Moisturizer contains stem cells from the exotic Malus Domestica, a rare apple from Switzerland known for its long shelf life and its ability to stay fresh without shriveling. This apple species had a flavor that consumers found too acidic, making farmers reluctant to grow it. The Malus Domestica, however, was discovered to have interesting scientific advantages due to its ability to live a long, healthy life without the usual shriveling that accompanies fruit as it ages. The same idea has been transferred to Ageless Derma's latest moisturizer with its incorporation of these stem cell extracts for a renewed and rejuvenated facial complexion. The stem cells help with not only apple longevity, but also with repairing human skin cells. This results in the ultimate reduction of fine lines and wrinkles with regular use.
Other ingredients are added to the Swiss Apple Stem Cell Oil-Free Continuous Moisturizer to make this moisturizer a workhorse of anti-aging and hydrating skin renewal. Ceramides and essential fatty acids account for maximum skin hydration and strengthening of the skin barrier function. Capric Triglycerides silken skin, glycerin keeps moisturization and hydration in balance, and Ceramides 3, 611, and 1 (all lipids) stop moisture from escaping and hold the skin barrier intact. Swiss Apple Stem Cell Oil-Free Continuous Moisturizer also has sodium hyaluronate to attract and keep moisture in. The hyaluronate also aids in blood microcirculation and the smoothing of wrinkles.
The developers at Ageless Derma Skin Care know they are making something extraordinary happen. Their line of physician-grade skin care products incorporates an important philosophy: supporting overall skin health by delivering the most cutting-edge biotechnology and pure, natural ingredients to all of the skin's layers. This attitude continues to resonate to this day with the company's founder, Dr. Farid Mostamand, who nearly ten years ago began his journey to deliver the best skin care alternatives for people who want to have healthy and beautiful looking skin at any age. About this latest Ageless Derma product, Dr. Mostamand says, "The Swiss Apple Stem Cell Oil-Free Continuous Moisturizer is a multi-beneficial product that protects skin and works to smooth lines and wrinkles as it keeps moisture in, working throughout the entire day. Without the correct distribution of moisture, skin becomes dry and susceptible to wrinkling. This product is oil-free and can be used for any skin type."
Ageless Derma products are formulated in FDA-approved Labs. All ingredients are inspired by nature and enhanced by science. Ageless Derma products do not contain parabens or any other harsh additives, and they are never tested on animals. The company has developed five unique lines of products to address any skin type or condition.