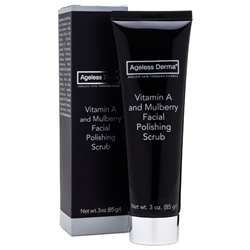 The Vitamin A and Mulberry Facial Polishing Scrub contains the natural ingredients that are known to effectively exfoliate skin
Irvne, Californiai (PRWEB) December 10, 2014
The developers at Ageless Derma Skin Care introduce a facial scrub that will cleanse and exfoliate skin using proven vitamin and botanical substances for multi-faceted anti-aging effects. The Vitamin A and Mulberry Facial Polishing Scrub contains the natural ingredients that are known to effectively exfoliate skin and cleanse it thoroughly for a brightened, rejuvenated appearance.
The Vitamin A and Mulberry Facial Polishing Scrub is made up of two primary ingredients that are derived from nature. Vitamin A, in the form of retinyl palmitate, is an effective antioxidant that, upon absorption into the skin layers, is converted to retinoic acid. The Vitamin A in this scrub is a less irritating ingredient than retinol and more gentle, especially on sensitive skin. This ingredient encourages skin cell renewal and the regeneration of collagen and elastin. Vitamin A and Mulberry Facial Polishing Scrub's Vitamin A aids in gentle yet effective skin exfoliation, sloughing off the upper dermal layer and producing new skin cells for a younger appearance.
Ageless Derma carefully chose Morus Alba Leaf Extract (Mulberry) for inclusion in its Vitamin A and Mulberry Facial Polishing Scrub. This is an extract of the dried leaves of the white mulberry tree. The Mulberry extract in Vitamin A and Mulberry Facial Polishing Scrub is a botanical anti-aging and brightening substance. It is also known for its abilities to slow the aging process. It has strong antioxidant abilities and is able to make skin smoother and silkier. It tones skin as it revitalizes it, working to diminish dark spots and uneven tone, and as a skin lightening agent. The result is a bright, glowing complexion that is polished and renewed for a more youthful look.
The developers at Ageless Derma Skin Care know they are making something remarkable occur in the skin care world. Their line of physician-grade skin repair products incorporates an invaluable philosophy: supporting overall skin health by delivering the most cutting-edge biotechnology and pure, natural ingredients to all of the skin's layers. This approach continues to resonate even today with the company's founder, Dr. Farid Mostamand, who close to ten years ago began his journey to deliver the best skin care alternatives for those who want to have healthy and beautiful looking skin at any age. About this latest Ageless Derma product, Dr. Mostamand says, "The Ageless Derma Vitamin A and Mulberry Facial Polishing Scrub will renew the complexion with the rapid appearance of younger skin due to its gentle yet highly effective exfoliating action. Skin tone becomes more balanced, collagen stores are replenished, and fine lines and wrinkles are replaced with a radiant complexion."
Ageless Derma products are developed in FDA-approved laboratories. All ingredients are inspired by nature and enriched by science. Ageless Derma products do not include parabens or any other harsh elements, and they are never tested on animals. The company has developed five distinctive lines of products to address any skin type or condition.