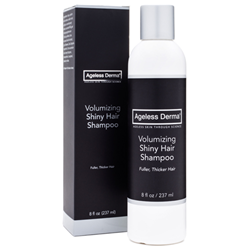 Irvine, California (PRWEB) December 15, 2014
Ageless Derma, the maker of pure anti-aging skin and hair products, is excited to launch its latest addition of the Volumizing Shiny Hair Shampoo product. This is a shampoo containing pure botanical extracts and natural vitamins for a truly enriching and youth-inducing shampoo experience. Hair will undergo increased volume, more shine, more manageability, added moisture and newly restored health with regular use of this state-of-the-art hair development.
The Volumizing Shiny Hair Shampoo is manufactured using powerful yet all natural extracts and vitamins. Olive leaf extract, also known as Europaea, has a monopoly on anti-oxidants, anti-bacterials, and anti-inflammatory agents, all of which protect, enliven, and strengthen the hair by working directly within the hair follicles. Moisture is enveloped within the follicles, making hair healthy once again. This extract also provides the highly desired shine to hair in addition to restoring smoothness. Olive leaf extract contained in Volumizing Shiny Hair Shampoo also enables the immune system to become stronger. The follicles are protected against stress and hair is restructured for an overall more radiant and glowing appearance from within. The stronger hair follicles enables hair to look as though it is fuller and it is, indeed, healthier with the use of this powerful product.
Vitamin B5, or panthenol, is included in Volumizing Shiny Hair Shampoo. This is a provitamin that is a moisturizer, a humectant, and an emollient all rolled into one. The Vitamin B5 provides hair with extreme shine and also detangles it. This vitamin ingredient in Volumizing Shiny Hair Shampoo can enter the hair cuticle and shaft for maximum effect.
At Ageless Derma, we believe we are achieving something quite special. Our own line of physician-grade skin care products incorporates an important philosophy: promoting overall skin health by delivering the most advanced biotechnology and natural ingredients to each of the skin's layers. This attitude still resonates today with our founder, Dr. Farid Mostamand, who nearly ten years ago began his journey to provide the finest skin care choices for people who want to have healthy and beautiful looking skin at any age. About our latest product, Dr. Mostamand says, "Volumizing Shiny Hair Shampoo is sure to be one of our most desired products on the hair care market today. It is manufactured without the use of sodium lauryl sufates or parabens, both of which have been linked to cancer and other dangers. The pure olive leaf extract, Europaea, defends and fortifies the hair follicle for superb shine and health, in addition to renewed volume."
Ageless Derma products are formulated in FDA-approved Labs. All ingredients are inspired by nature and enhanced by science. Ageless Derma products do not contain parabens or any other harsh chemicals, and they are never tested on animals. The company has formulated five unique lines of products to address any skin type and skin condition, and includes quality hair products in its extensive line.