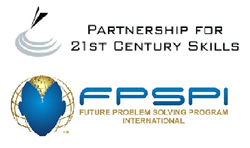 The main objective of FPS is to 'Teach students how to think, not what to think' - Marianne Solomon, FPS Executive Director
WASHINGTON, DC (PRWEB) December 09, 2014
Future Problem Solving Program International (FPS) has joined the Partnership for 21st Century Skills (P21), the nation's leader advocating for 21st century readiness for every student.
By becoming a P21 member, Future Problem Solving enters P21's diverse coalition of education leaders, the business community, and policymakers supporting student readiness for college, career, and citizenship along the entire continuum of learning.
Executive Director Marianne Solomon will represent FPS on P21's strategic council and will contribute to P21's ongoing work.
Future Problem Solving's mission is to develop the ability of young people globally to design and promote positive futures through problem solving using critical and creative thinking. Part of Future Problem Solving's strategic growth plan has been to identify and meet current trends in education, which made joining P21 a natural fit.
"FPS fills a critical gap in today's school curriculum. The pace of change in today's workplace is staggering as many jobs that our children will hold do not exist today," commented Marianne Solomon, Executive Director of FPS. "Educators can use the Creative Problem Solving within FPS to enhance their curriculum, giving their students the tools they need. The main objective of FPS is to 'Teach students how to think, not what to think'."
"P21 and its members are committed to preparing the next generation of creative problem solvers, and we are thrilled to have Future Problem Solving Program International to ensure that we engage more schools, students, and learning communities in 21st century learning," said Stephan Turnipseed, chair of P21 and president emeritus and executive director of strategic partnerships at LEGO Education.
P21 is proud to continue its collaborative work to engage leaders in education, business, and policy, as well as the 19 partnership states to help prepare students to lead and succeed in 21st century work, life, and citizenship.
# # #
About Future Problem Solving Program International (FPSPI)
Future Problem Solving Program International, a 501(c)(3) non-profit organization established in 1974, has grown into an international academic program challenging students to think both creatively and futuristically. Since its inception, FPSPI has grown to include students from 42 states within the USA and 16 countries. It is difficult to say how many hundreds of thousands of students participate each year as the program reaches students who may be involved non-competitively in classrooms or after school programs using the materials to enhance curriculum through critical and creative thinking. http://www.fpspi.org or on Facebook.
About P21
P21 is a national organization that advocates for 21st century readiness for every student. As the United States continues to compete in a global economy that demands innovation, P21 and its members provide tools and resources to help the U.S. education system keep up by fusing the 3Rs and 4Cs (critical thinking and problem solving, communication, collaboration, and creativity and innovation). While leading districts and schools are already doing this (see Exemplar Program), P21 advocates for local, state and federal policies that support this approach for every school. http://www.p21.org and @P21CentSkills
P21 Members: American Camp Association, Apple Inc., Asia Society, Bahcesehir K-12 Schools, Cable Impacts Foundation, The College Board, Common Sense Media, Crayola, Destination Imagination, EdLeader21, EF Education, Education Networks of America, Fisher-Price, Ford Motor Company Fund, Future Problem Solving Program International, Gale Cengage Learning, Goddard Systems Inc., Intel Corporation, Learning.com, LEGO Education, National Board for Professional Teaching Standards, National Education Association, PBS, Pearson Foundation, People to People Ambassador Programs, Project Management Institute Educational Foundation, U.S. Fund for UNICEF, VIF International Education, and The Walt Disney Company.
P21 Leadership States: Arizona, California, Illinois, Iowa, Kansas, Kentucky, Louisiana, Maine, Massachusetts, Nevada, New Jersey, North Carolina, Ohio, Oklahoma, South Carolina, South Dakota, Vermont, West Virginia and Wisconsin.
Media contacts:
Tatyana Warrick, P21, tatyana(at)p21(dot)org, 202-312-6430
Marianne Solomon, FPSPI, Marianne(at)fpspi(dot)org, 321-768-0074