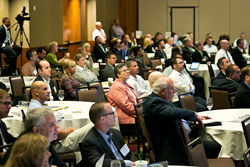 The Summit will provide real data, technology, tools and case studies on how to better integrate patient engagement into healthcare.
WASHINGTON, DC (PRWEB) December 08, 2014
HIMSS Media and Healthcare IT News are proud to announce the 2015 Patient Engagement Summit. Mark your calendars for February 9-10, 2015. The Summit, a national gathering of providers, payers, researchers, academics, and government officials, will take place at the Hyatt Regency in Orlando, Fla. More than 30 expert speakers will share their expertise regarding successful patient engagement programs.
When: February 9-10, 2015
Where: Hyatt Regency, Orlando, Florida
Who: The Summit will gather Healthcare IT professionals, clinicians, administrators and public health professionals who are working to meet the requirements of healthcare reform by engaging patients in their own care.
Keynote Speaker: Kyra Bobinet, MD, Senior Instructor, Stanford University
As the Senior Instructor in health engagement at the Stanford University Behavior Design Lab, Dr. Kyra Bobinet directs mobile engagement and other behavior studies in health. She recently founded a behavior design firm, engagedIN, which focuses on engaging patients in improving their health and well-being. Bobinet has devoted her professional life to cracking the code of why patients engage in their health and will share her intriguing findings.
Speakers:
Physicians and healthcare leaders will present compelling case studies from the following healthcare organizations: Intermountain Healthcare, Novant Health, George Washington School of Nursing, Penn Medicine, Parkview Health, Beth Israel Deaconess Medical Center, Summa Health System, Carolinas Healthcare System, Miami Children's Hospital, and The University of Chicago Medicine.
"Many industry stakeholders consider patient engagement 'the blockbuster drug of the 21st century.' By creating programs that allow patients to assume more responsibility for their own health, healthcare organizations can reduce costs and improve care," said John Whelan, Executive Vice President, HIMSS Media. "This is still a relatively new concept, and as such, many providers are unclear how to engage patients consistently and effectively. The Summit will provide real data, technology, tools and case studies on how to better integrate patient engagement into healthcare."
To register, and find out more, go to: Patient Engagement Summit
About HIMSS
HIMSS is a global, based, not-for-profit organization focused on better health through information technology (IT). HIMSS leads efforts to optimize health engagement and care outcomes using information technology.
About HIMSS Media
HIMSS Media is a cause-based, global enterprise producing health IT thought leadership, education, events, market research and media services -- around the world. Founded in 1961, HIMSS encompasses more than 52,000 individuals worldwide, of which more than two-thirds work in healthcare provider, governmental and not-for-profit organizations. Membership also includes more than 600 corporations and 250 not-for-profit partner organizations that share this cause. HIMSS, headquartered in Chicago, serves the global health IT community with offices in the United States, Europe, and Asia.
About Healthcare IT News
Healthcare IT News is the industry's leading news source, providing healthcare IT and other executives the information they need to implement and harness technology as a means to enhance patient care. Award-winning coverage includes clinical and business IT strategies, regulatory updates and vendor and provider news. Engaged readers access content online and in print, as well as through mobile and social media platforms.