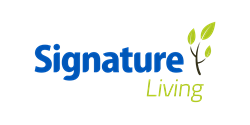 Louisville, KY (PRWEB) December 09, 2014
Signature HealthCARE has chosen Jefferson City, Tenn. as the location to launch its latest venture and recently broke ground on a new assisted living center in the town, located about 20 miles outside Knoxville.
Signature is a growing provider of long-term care, rehabilitation and health care services with 125 locations in 10 states. The new assisted living facility – the first under the company's new assisted living division, Signature Living – is the latest in a series of moves that are expanding Signature's services beyond traditional nursing home care and across the entire spectrum of health care services.
"Jefferson City is proud to welcome Signature Living to our area," said Jefferson City Mayor Mark Potts, who has also served as Deputy Director for Jefferson County Emergency Medical Services since 1997. "We welcome the unique services Signature Living will bring to our residents, and we are thankful our residents will have new, enhanced opportunities."
The center will offer 24-hour nursing assistance, a rehabilitative therapy gym, and other services and amenities. The 26,300-square-foot facility will feature 43 private apartments in six different options, from studio to two-bedroom units.
Signature Living – Jefferson City is expected to open during Fall 2015, after construction is complete and the facility is properly licensed, and staffed. About 25 people will be hired for the new center, including positions in nursing, dietary, housekeeping, administration and other roles.
Signature's culture is founded on three organizational pillars – Spirituality, Learning and Intra-preneurship – each of which is a distinct department with its own staff and initiatives. Signature's culture will be integrated into the new center, tailored to meet the individual needs and desires of the people it serves, both residents and staff.
Signature HealthCARE currently operates nearly 30 skilled-nursing and rehabilitation centers across Tennessee. Meanwhile, Silver Angels, an affiliate company, provides non-medical home care services through its 10 locations statewide.
"We're proud to begin our journey with Signature Living in Jefferson City, in the beautiful 'mossy creek' area of East Tennessee," said Signature Living CEO Peter Falk. "We're confident our services and culture will be a perfect fit for this community, and we're looking forward to getting better acquainted."
For more about Signature HealthCARE, visit LTCRevolution.com.