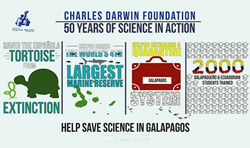 Let's take this opportunity to give back, a way of saying thanks to this inspirational destination.
Missoula, Montana (PRWEB) December 11, 2014
The Charles Darwin Foundation (CDF) is the oldest and most important research organization in the Galapagos. A series of unfortunate events has put significant financial pressure on the CDF. As a token of our support and appreciation, Adventure Life is participating in an end-of-year fundraising drive sponsored by the International Galapagos Tour Operators Association (IGTOA). Our hope is to help ensure the CDF's positive presence in the Galapagos for years to come. In this season of giving, what a great opportunity to support a worthy cause!
"For those of us who have been deeply impacted by our Galapagos trips, let's take this opportunity to give back, a way of saying thanks to this inspirational destination," said general manager Jonathan Brunger. "If you have not had the chance to visit yet, please consider donating to this organization that is helping preserve the Galapagos for future generations of travelers – maybe your own family."
As an active member of IGTOA, the organization will match donations made by Adventure Life travelers - IGTOA will give $2 for every $1 donated, up to a total of $50,000! You can make your tax deductible donation at http://www.igtoa.org/support_the_cdf
To experience the Galapagos the Adventure Life way, visit http://www.adventure-life.com/galapagos or call 800-344-6118.
About Adventure Life:
Adventure Life is a company of travelers with a passion for sharing the world with others. Our travel experience runs deep, from years volunteering in rural Africa and Central America, to research trips in Asia, studying in Europe, guiding in the Rockies, and just bouncing around every corner of the world. This deep experience is the reason behind our pioneering approach to travel and award winning itineraries. For nearly fifteen years we have been creating personal itineraries that immerse our travelers in the vibrant colors of a place, leaving both our guests and hosts enriched by the experience. From our beginnings as a Latin America specialist, we now offer private journeys, small group tours, and expedition voyages throughout the world. We pride ourselves on our intimate knowledge of our destinations and our dedication to sharing the world.