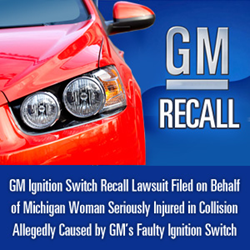 To learn more about filing a GM ignition switch lawsuit, contact the Oliver Law Group P.C. for your free case review by calling toll free 800-939-7878 today or visiting www.legalactionnow.com
Detroit MI (PRWEB) December 09, 2014
GM Ignition Switch Lawsuit News: As personal injury wrongful death lawsuit and filings continue against GM, the company reported that 36 people have been killed and 44 people have been seriously injured in accidents linked to the faulty ignition switches in certain of the automaker's vehicles, The Oliver Law Group reports. According to CBS News, GM established a fund to compensate accident victims and so far, the company has made compensation offers to 57 of 80 eligible claimants. Of the 57 compensation offers made, 35 claimants have accepted the offers and GM has paid compensation to 20 claimants. GM's Attorney Kenneth Feinberg recently updated the claim totals for the company which has so far received 229 death claims and 1,986 injury claims since August, CBS reported. GM is accepting claims from victims until January 31, 2015.
[cbsnews.com/news/death-toll-gm-ignition-switches-keeps-climbing/, December 1, 2014]
In February, GM announced recalls of some of its older vehicles to repair ignition switches that move without warning from the "On" or "Run" position to the "Off" or "Acc" position. The movement could cause the vehicle's engine and certain electrical components to suddenly shut down and the airbag system is disabled at the same time. The automaker recalled more than 2.6 million vehicles that included:
2003-2007 Saturn Ion
2005-2007 Pontiac G5
2005-2010 Chevrolet Cobalt
2006-2010 Pontiac Solstice
2006-2011 Chevrolet HHR
2007-2010 Saturn Sky
GM has recommended that vehicle owners only use the ignition key with nothing else on the key ring. The National Highway Transportation Safety Administration is also urging vehicle owners to have their recalled vehicles repaired immediately now that GM has enough parts available to fix the defective switches.
[safercar.gov/Vehicle+Owners/Consumer+Alert:+GM+Ignition+Switch+Recall+Information, NHTSA, February 2014]
[nhtsa.gov/About+NHTSA/Press+Releases/2014/owners-of-recalled-gm-cars-with-faulty-switches-urged-to-seek-free-remedy, December 2, 2014]
Court documents indicate that the Judicial Panel on Multidistrict Litigation transferred all federally filed defective ignition switch lawsuits to the U.S. District Court, Southern District of New York where pretrial proceedings are underway. As of November 17, 2014, 133 wrongful death and personal injury lawsuits are pending in the GM multidistrict litigation (MDL) in the New York federal court. The lawsuit complaints allege that drivers lost control of their vehicles due to the faulty ignition switch and their airbags failed to deploy. The lawsuits further contend that GM waited until a decade before disclosing the problems in its vehicles. U.S. District Judge Jesse M. Furman, who is managing the GM MDL, issued an order on December 1 approving an official website for the litigation that will be maintained by attorneys for both plaintiffs and GM. The judge's order said the new website at gmignitionmdl.com will provide updates on the litigation, including court orders, hearing transcripts, important pleadings and other information.
(In re: General Motors LLC Ignition Switch Litigation, MDL 2543)
The New York Times reported that the state of Arizona has sued GM alleging the automaker defrauded Arizona's consumers of an estimated $3 billion since about 300,000 GM vehicles recalled this year were registered in Arizona. Arizona's complaint further contends that GM's by failing to publicly disclose and repair the serious defects in its vehicles, GM contributed to increased death and injury. According to the New York Times report, the lawsuit filed by Arizona's attorney general further contends that vehicles owners suffered a loss in value of their vehicles because of the safety issues.
[nytimes.com/2014/11/20/business/arizona-sues-gm-for-3-billion-over-recalls.html?_r=0, November 20, 2014]
The Oliver Law Group is offering free legal reviews to individuals who were injured, as well as the families of those killed, in automobile accidents allegedly related to GM's ignition switch recall. To learn more about filing a GM ignition switch lawsuit, please contact our office by calling 800-939-7878 today.
About The Oliver Law Group P.C. Class action Lawsuits And Filing A GM Ignition Switch Lawsuit
The Oliver Law Group P.C. is a different kind of law firm. One that focuses on the needs of the injured first. A compassionate law firm dedicated to fighting for the rights of victims and their families, and doing everything necessary to ensure those rights.
The experience of a large firm. The 1-on-1 dedication of a small firm. A reputation built on trust.
Experience. Dedication. Trust. Oliver Law Group P.C.
If you would like to learn more about filing a GM ignition switch lawsuit, turn to the law firm with the Experience, Dedication, and Trust you deserve. Contact the Oliver Law Group P.C. for your free case review by calling toll free 800-939-7878 today or visit http://www.legalactionnow.com