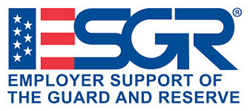 There are a lot of Michigan employers out there in both the private and public sectors that have been going above and beyond the call of duty , and we want them to be recognized for their efforts.- State ESGR Chairman Mel Bauman
Lansing, MI (PRWEB) December 11, 2014
The Michigan Committee for Employer Support of the Guard and Reserve (ESGR) is reporting that a larger than usual number of Michigan employers have been nominated for the Freedom Award this year. The nomination period for the award opened in November, and remains open through January 19, 2015. Only 15 awards are presented to the best of the best employers each year.
State ESGR Chairman Mel Bauman said this week that he expects nominations for nearly 100 employers of all sizes and types to be received this year. Bauman stated that, "There are a lot of Michigan employers out there in both the private and public sectors that have been going above and beyond the call of duty to take care of their National Guard and Reserve employees, and we want them to be recognized for their efforts."
In addition to the Freedom Award, State level recognition is available for employers who exceed the standard for supporting their Reserve and Guard employees. Barton Buechner, ESGR State Vice-Chair, attributes the surge in Michigan nominees in part to the recent emphasis by many employers in the state on hiring military veterans: "Once they begin hiring more veterans, which includes those still serving in the reserve components, employers begin to realize the contributions they make to their workforce, and take positive steps to retain them. This results in the supportive practices which make them eligible for this recognition."
Past Freedom Award recipients in the State of Michigan include all of the "big three" auto makers, several public safety organizations, including the Michigan State Police, and a small company. In all, ten Michigan employers have received the national Freedom Award in the past. Additionally, several prominent Michigan based companies, such as Whirlpool and Dow Chemical Company, have received state-level recognition and have been nominated for the Freedom Award.
Human Resources policies that set these employers apart include providing for a "pay differential" during periods of military service, establishing veteran affinity groups, and actively participating in military and veteran hiring fairs. Buechner also noted that some Michigan schools have won State-level awards for being exemplary employers.
"Many Michigan colleges and universities are setting the pace in becoming more "veteran-friendly" for returning military students, and this is carrying over into their employment practices," he noted. In recent years Central Michigan University, Saginaw Valley State University, and Davenport University have all received recognition for their winning combination of "veteran-friendly" campuses and supportive employment.
Reserve Component members can submit their nominations for the 2015 Freedom Award at http://www.freedomaward.mil through January 19, and can find out more about this and other recognition and support programs at the national ESGR website at http://www.ESGR.mil.
Contact the Michigan Committee for ESGR Public Affairs Director Gary Lockard at g_lockard(at)yahoo(dot)com, or the Committee's Program Support Technician, Gary Aten, at gary(dot)d(dot)aten(dot)ctr(at)mail(dot)mil for more information about the Freedom Award.