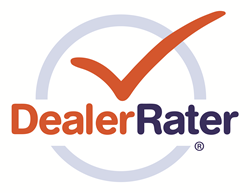 Waltham, MA (PRWEB) December 09, 2014
DealerRater, the car dealer review website for consumers, today announced the expansion of the company's executive team to include two new vice presidents. Bobby Gaudreau and Jeff Provost join the team as vice president of sales & marketing and vice president of customer service, respectively.
"Bobby and Jeff will help the DealerRater team further establish our site as a place to build trust between dealers and car shoppers," said Gary Tucker, CEO of DealerRater. "As online reviews continue to have a greater impact on consumer purchase decisions, we're confident that the experience and skill sets Bobby and Jeff bring to their new roles will help grow and shape our platform to meet the needs of dealers and their customers."
Gaudreau will be responsible for DealerRater's sales and marketing efforts, including expanding the company's Certified Dealer client base so more car dealers across North America are represented on and engaged with the DealerRater® site. Gaudreau will also lead efforts to further increase awareness of DealerRater among consumers. DealerRater, with more than 1.6 million reviews, helps car shoppers feel confident about choosing a dealer to work with, even before stepping onto the showroom floor.
Gaudreau, with more than 15 years of sales and leadership experience in software and technology, joins the DealerRater team from the world's leader in live video assistance, Vee24, where he served as vice president of sales. Prior to Vee24, Gaudreau was the vice president of sales for IMN, a digital marketing company serving automotive dealers. Gaudreau received a bachelor's degree from Keene State College and an MBA from Northeastern University. He is currently working to complete a master's degree in Organizational Behavior and Administration at Boston College.
Provost will be responsible for all of DealerRater's operations – customer service, moderation, implementation and dealer experience. These initiatives directly support the company's goal of building trust between car shoppers and dealers.
Provost has more than 14 years of experience in customer-focused operational roles for both start-up and enterprise organizations. He joins the DealerRater team from FitLinxx, an industry-leading provider of wellness applications, wireless activity monitors and health tracking devices, where he served as vice president of operations. Previously, Provost served as the director of operations and customer support at Pongo Resume, a full-service website for active job seekers and career-minded individuals. Provost has held a variety of leadership positions in the customer service department of international retail giant Staples. He received a bachelor's degree in business information systems from the University of Massachusetts.
Gaudreau and Provost will report directly to Tucker.
Vice President photos available for download here.
About DealerRater
DealerRater was founded in 2002 as the first car dealer review website worldwide. DealerRater is the world's No. 1 online resource for anyone seeking trusted, third-party information on automobile dealerships. DealerRater features nearly 41,000 U.S. and Canadian car dealers, more than 1.6 million consumer reviews and a million-plus cars listed for sale. DealerRater attracts more than 10 million consumers every year to the site to search for car dealerships, read reviews, write their own descriptive reviews and find car deals – all for free.
DealerRater offers qualified car dealers a Certified Dealer Program as a reputation-building management tool to help them grow their online presence and achieve higher SEO rankings across the Web. Its national network of more than 5,200 dealers are members of the award-winning DealerRater Certified Dealer Program. DealerRater is proud to have earned the No. 137 position on the 2012 Inc. 500 list, an exclusive ranking of the fastest-growing private companies in the United States. DealerRater is well poised to continue its global expansion, accelerate product innovation and evaluate strategic acquisition opportunities with a recent equity investment from Great Hill Partners, a Boston-based private equity firm focused on growth companies. DealerRater was also recently awarded a Technology Leadership Award from Dealer Marketing Magazine and another "Top Rated" Reputation Management award in the fourth annual DrivingSales Dealer Satisfaction Awards. For more information, visit http://www.DealerRater.com or call 800-266-9455.