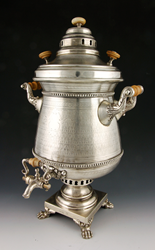 Beverly,Massachusetts (PRWEB) December 10, 2014
Kaminski Auctions held their Annual Thanksgiving auction on Sunday, November 30th. In past years the Thanksgiving auction had been their best-attended sale of the year. This year was no different as customers from all over New England attended the auction in person, adding a holiday atmosphere to the day.
Sales of the top lots featured in the monthly brochure were particularly strong including a 14k gold, sapphire and diamond bracelet which was the top valued top lot of the sale. It sold to an absentee bidder for $21,600, a perfect Christmas gift, while a beautiful Art Deco diamond and pearl bracelet sold for $9,000 to a customer in the audience. Rounding out the top jewelry lots was an 18-carat gold Patek Phillipe pocket watch that sold for $3,900 after spirited bidding from the audience and Internet.
A monumental Russian silver samovar, the first of its kind to go through the auction house brought $16,800, while a rare book "les Essais de Montaigne" garnered strong interest from many antiquarian book dealers and was finally hammered down at $9,600.
A number of choice Tiffany and Company Maker's silver pieces lit up the phone lines and Internet. An unusual sterling silver and inlaid wood butlers tray from the maker sold for $4,500 while a 19th century Tiffany makers Chrysanthemum center bowl brought $4,800. A Carl Poul Petersen sterling silver teapot, with stand and warmer decorated with lovely large foliate designs sold for $3,900.
Strong interest in Brian Coole paintings continued as his painting titled "The Burning of Charlestown" sold for $8,400 while a second Coole entry titled "Morning Sun at Gloucester" sold for $5,700.
Other paintings of interest included a signed John Whorf watercolor on paper of the "Pont St. Michel "and a classical scene of "The Triumph of David" attributed to Quellinius both sold for $4,800.
One of the more unusual lots of the sale was a collection of 106 cigar cutters that brought considerable interest and sold for $7,200 against and estimate of $6,000-$8,000. .
Rounding out the top lots were two (6 inch high) Sino –Tibetan Buddha's that sold for $8,400 and $3,900 respectively.
Although the market for period New England furniture had been quite soft, a wonderful 18th century New England Queen Anne table had several phone bids, as well as interest on the floor and Internet. It was hammered down at $5,700 in the end. All prices include buyer's premium.
Kaminski Auctions has a full slate of sales coming up with the Annual New Years auction scheduled for December 28th, the Sunday after Christmas followed by an exciting 20th Century Modern Design and Fine Art auction on Sunday, January 3rd and the private estate of Mary Alchain of Palm Springs, California scheduled for January 18th. All auctions start at 10:00 am and are held at the Kaminski Auctions gallery at 117 Elliott Street, Rt. 62, Beverly, Massachusetts. For more information and to sign up to bid visit http://www.kaminskiauctions.com