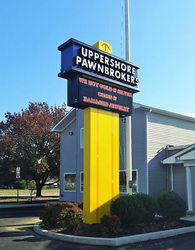 ...it was the least expensive and most effective way to reach all of their potential customers.
Elkton, MD (PRWEB) December 18, 2014
In business for over 50 years, Uppershore Pawnbrokers provides superior service and a wide selection of fully-stocked inventory. In the effort to advertise their wide array of items for sale in their large, newly-built location, they were in need of a cost-efficient, yet effective marketing solution; an LED message sign was the answer.
They went to KC Sign and Awnings for this project. "The digital displays and signage that have been installed locally by KC Sign are some of the most attention-grabbing signs in the area," stated Dave Peligrito, owner of Uppershore Pawnbrokers. "Along with KC Sign's expertise, competitive pricing, and large volume of signage in the field, Vantage LED (manufacturer) manufactured a display of the highest quality, along with the 5 Year Labor warranty and SM Infinity Cloud Software." With the SM Infinity software solution, Uppershore Pawnbrokers can easily create content themselves or receive professional custom-made content that complements their LED message sign.
"They will now find it easier to sell their large inventory of jewelry, antiques, electronics, musical equipment, tools, and much more," added Joe Clark of KC Sign and Awnings. "With the initial cost being amortized over the life of an LED sign, it was the least expensive and most effective way to reach all of their potential customers." With their new eye-catching LED Sign, Uppershore Pawnbrokers can now easily advertise their offerings, such as free layaway and the sale of the month.
Peligrito summed up, "We are absolutely thrilled with the quality and capabilities of our new sign. We are sure to stand out amongst a crowded sea of signage along the busiest corridor in Elkton, MD."
About KC Sign and Awnings:
KC Sign and Awnings has been providing interior and exterior signage to the Mid-Atlantic Region for over 20 years, and have seen steady growth over that time. Originally in a single 2,000 square foot building, they now operate 3 locations serving the PA, DE, NJ, and MD areas, and manufacture signage at their 25,000 square foot facility in Aston, PA. They offer a wide variety of sign products, including awnings, channel letters, digital printing, electric signs and more. Additionally, they provide a full range of services like permitting, design, installation, project management, and service calls both locally and nationwide.