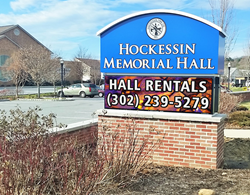 We've received so many compliments on our new sign, and we are very grateful to KC Sign for getting the job done!
Elkton, MD (PRWEB) December 12, 2014
Located in the middle of the quaint Village of Hockessin, Delaware, Hockessin Memorial Hall is a premier banquet facility that hosts a wide variety of special events. Their professional and courteous staff prides themselves on providing quality service for every special event. Being in business for 45 years, Hockessin Memorial Hall has endured many aesthetic updates. With a newly remodeled banquet hall under their belt, there was only one thing left for updating: their outdated on-premise manual message board.
Hockessin Memorial Hall sought something more eye-catching and effective in getting their message of great service out there. With the goal to make every event memorable, it only seemed fitting that they have a memorable sign.
Knowing that KC Sign and Awnings had installed more LED signs in the area and were the most credible source for a sign, Hockessin Memorial turned to them for this project. "In addition to the LED display, they [KC Sign & Awnings] were able to manufacture a very high-quality identification cabinet with push-through acrylic lettering. They also built the brick base," stated Dan Carrier, owner of Hockessin Memorial Hall. Now, sitting in front of their facility, is a beautifully-designed sign structure that is sure to succeed in conveying their message to current and potential customers.
"Quality, Quality, Quality," added Joe Clark of KC Sign and Awnings. As one of the largest custom sign companies in the area, KC Sign has installed LED displays from every manufacturer out there, from the so-called 'biggest and best' in the country to the cost-efficient direct imports."
Clark continues, "Nothing is more costly, both monetarily and to our company's reputation, than installing an LED sign that doesn't work, is difficult to use or program, or requires multiple return trips for service and repair. This is why we always recommend an LED sign from Vantage LED."
Hockessin Memorial Hall proudly welcomes any special event and intends to make them all more than memorable. With the help of their new eye-catching LED sign, they can now make a memorable impression on the community and passersby.
Carrier sums up, "We've received so many compliments on our new sign, and we are very grateful to KC Sign for getting the job done!"
About KC Sign and Awnings:
KC Sign and Awnings has been providing interior and exterior signage to the Mid-Atlantic Region for over 20 years, and have seen steady growth over that time. Originally in a single 2,000 square foot building, they now operate 3 locations serving the PA, DE, NJ, and MD areas, and manufacture signage at their 25,000 square foot facility in Aston, PA. They offer a wide variety of sign products, including awnings, channel letters, digital printing, electric signs and more. Additionally, they provide a full range of services like permitting, design, installation, project management, and service calls both locally and nationwide.