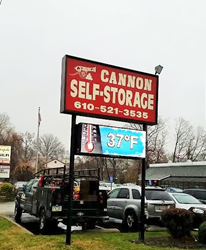 We were happy to help Cannon Self Storage reach out to their community in a standout way.
Elkton, MD (PRWEB) January 06, 2015
Cannon Self Storage is one of suburban Philadelphia's first providers of mini storage facilities. They take pride in the sense of security they are able to provide when their customers put their personal belongings in their hands. In the hopes of effectively reaching potential customers on a large scale, Cannon Self Storage decided a full-color, outdoor LED message sign was their best bet. After all, they had already seen the benefits of this digital advertising tactic at their other locations.
After working with KC Sign and Awnings over the past decade, they knew they could call on Joe Clark to assist them in their pursuit of a high-quality, aesthetically appealing LED message sign. KC Sign suggested a sign manufactured by Vantage LED, based on the quality and reliability they have been able to maintain as a manufacturer.
"It is so gratifying when we don't have to spend so much time on return trips to service malfunctioning displays, like we've experienced with other manufacturers," stated Joe Clark, of KC Sign and Awnings.
"KC Sign has always been there to answer any questions we have had with the sign," stated Francis Cannon, owner of Cannon Self Storage. "When we called about a sign for this location, they suggested a Vantage LED sign, not only for the quality and support they've experienced, but because of Vantage's 5 year parts and labor warranty and online cloud-based software with free content creation for 1 year." Not only does Cannon Self Storage get a state-of-the-art LED sign, but the SM Infinity software backing their sign allows them to easily schedule messages and get custom, professionally-designed content that helps their sign stand out even more.
Joe Clark, with KC Sign and Awnings added, "We were happy to help Cannon Self Storage reach out to their community in a standout way."
Cannon Self Storage consistently goes to great lengths to ensure their customers' valuable possessions are safest in their care. With the new LED message sign, they can effectively communicate this to their current and potential customers. They can also continue to create personable relationships with their customers and maintain the family atmosphere they intend to uphold.
Cannon summed up, "We absolutely love our sign, and we would recommend KC Sign and Awnings to anyone!"
About KC Sign and Awnings:
KC Sign and Awnings has been providing interior and exterior signage to the Mid-Atlantic Region for over 20 years, and have seen steady growth over that time. Originally in a single 2,000 square foot building, they now operate 3 locations serving the PA, DE, NJ, and MD areas, and manufacture signage at their 25,000 square foot facility in Aston, PA. They offer a wide variety of sign products, including awnings, channel letters, digital printing, electric signs and more. Additionally, they provide a full range of services like permitting, design, installation, project management, and service calls both locally and nationwide.