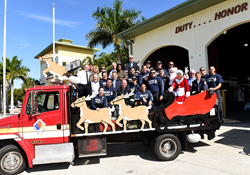 Deerfield Beach, Florida (PRWEB) December 11, 2014
To recognize and thank the first responders who risk their lives to provide fire suppression and emergency medical services for the community, People's Trust Insurance Company hosted a special holiday lunch for the 25 members of Deerfield Beach Fire Rescue Station 102.
The 325 People's Trust employees who work at the company's headquarters have been next-door neighbors with the staff of Station 102 since the company moved into the People's Trust headquarters in early 2014.
"Being in the home protection business, we are explicitly aware of the critical nature of the work done by first responders to prevent loss of life and property," said Adam Hasner, People's Trust Chief Marketing Officer. "As we remember our blessings this holiday season, we thought it only right to honor and thank the firefighters and law enforcement officers who are our neighbors and friends."
The lunch, which was catered by Maggiano's, was held on December 10, 2014 from noon to 1 p.m. at Fire Rescue Station 102, 1441 SW 11th Way, Deerfield Beach, Florida 33441.
About People's Trust
Founded in 2008, People's Trust Insurance Company is a Florida-based home insurance company established to bring stability and affordability to an insurance market that has been plagued by uncertainty. Honored with the 2013 Enterprise Florida Governor's Innovators in Business Award, People's Trust offers a better solution for more than 130,000 policyholders throughout Florida by embracing an ethic of preparedness and rapid response, providing the greatest value and a simplified recovery experience to our policyholders.