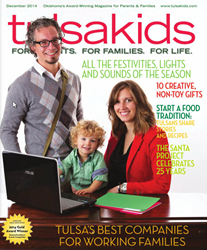 We wanted to know why employees loved where they worked. Betty Casey, Editor
Tulsa, OK (PRWEB) December 11, 2014
Spherexx.com has always maintained a family-friendly working environment. When TulsaKids Magazine invited employees to fill out an online application telling them why they loved their workplace, Spherexx employees responded. "Specifically, we wanted to know how area companies, including schools and non-profits, support parents," says Betty Casey, TulsaKids editor. "The parents who work at these places were obviously very appreciative of the employers' acknowledgement of family work/life balance."
Considering there is a basketball court in the center of the 13,830 square foot building, along with a ping pong table, one quickly realizes there is something special about Spherexx.com when entering the company headquarters near 91st and S. Sheridan. To the immediate right is a fully-equipped fitness center that employees and their family members can use, with certain safety restrictions. The closet to the left of the nearby stairway is filled with toys, wagons, push cars, doll furniture and a host of stuffed animals and dress-up clothes.
Family members are welcome to drop by to share a meal in the dining area that offers a wrap-around counter with bar stools and a fully equipped kitchen, including cooking stove, refrigerator stocked with pop, small appliances, television, and gourmet coffee, tea and hot chocolate.
"We work with our employees' schedules with reasonable flexibility so they can attend family members' events, or attend to other personal business," says Becca Wilson, President and CEO. Becca was recently slated as "Woman of the Year – Technology" by The Stevie® Awards, and as one of the women "Changing the World of Real Estate Management" by the Institute of Real Estate Management. She is well known as a "beyond the box" leader. It is not unusual to see Becca rock an employee's baby or push a toddler in a toy car around the basketball court. The Spherexx work environment provides an atmosphere for concentration, creativity, and caring.
For over 20 years, TulsaKids Magazine has been serving parents and other caregivers by providing the latest, most accurate information available on topics ranging from physical and mental health to education to entertainment.
TulsaKids is an award-winning monthly magazine focusing on the issues, concerns and needs of parents of children from prenatal through adolescence. The magazine is locally owned, written and published, so it offers a unique community perspective on issues affecting families.
TulsaKids works to be a strong voice in support of children and families, advocating, informing and entertaining over 62,000 readers each month.
About Spherexx.com® Advertising Agency | Software Development | Business Intelligence
Spherexx.com is recognized as an established leader for website, Internet marketing and software development services since 2000. With offices located in Tulsa, Dallas, and Houston, the company has been distinguished as one of INC5000's fastest growing companies. Spherexx.com is a recipient of International Summit Creative Awards for creative and communication excellence and Internet Advertising Competition (IAC) awards for best real estate website and for outstanding websites. Spherexx.com is also a Webby Honoree and has also received W3 Video awards from the Academy of Interactive and Visual Arts for B2B branded content and promotional branding. Multi-Housing News awarded two Spherexx.com products with Technology Choice Awards: IloveLeasing for Lead Management and RentPush for Revenue Management for superior service and innovation.
Spherexx.com offers a wide selection of professional services including web design and development, touchscreen kiosks, Internet lead generation tools, online advertising, consulting, advanced mobile technology, apartment lease-up marketing consulting, and search engine performance. The company also provides branding services, video/multimedia production, print media, and copywriting, as well as website and email hosting, database solutions, pay per click, e-commerce solutions and custom programming.
The company has developed CRM (customer relationship management) products, marketing and lead generation tools that allow clients to better manage and convert leads to leases and sales and increase property values. These applications are branded under ApartmentWebsites.com™, Messagekast.com™, ILoveLeasing.com®, MarketSurveyTools.com™, RentPush.com® Revenue Management Asset Optimization and RentIntel™ Business Intelligence. Spherexx.com provides web-based prospecting, marketing, advertising management, and support services.