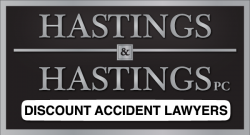 Phoenix, AZ (PRWEB) December 15, 2014
Hastings and Hastings, a law firm in Arizona that focuses on personal injury cases and that offers free consultations reports 2014 record demand for legal representation for injuries caused by parking lot accidents. A growing number of accidents and incidents are occurring in parking lots across the state each and every day. From mall parking lots to corporate parking lots and sporting event parking lots, accidents occur that cause serious injury and even loss of life. When this happens it is essential to work with an experienced, dedicated and focused personal injury lawyer in Arizona. While accident victims have choices in this regard, Hastings and Hastings has set itself apart as a reliable team of personal injury attorneys.
The firm has years of experience in trial law and has represented countless personal injury cases over the years. From working with insurance companies to negotiating a favorable recovery and taking a case to trial, Hastings and Hastings is a firm that has stood the test of time. Perhaps most important of all is the fact that Hastings and Hastings offers aggressively discounted attorney's fees without sacrificing the quality of service. This is important because this type of attorney fee structure is intended to allow clients to retain a larger portion of any recovery. When clients retain a larger portion of a recovery they have greater financial resources to handle ongoing medical care and mounting losses associated with being unable to work.
Hastings and Hastings is known throughout the industry for its no fee promise. This promise simply states that if a client does not receive a recovery through negotiations or a trial that the client will not be required to pay any attorney's fees. This is an important distinction of the Hastings and Hastings difference because it simply means that accident victims will not be burdened with additional costs if a recovery is not achieved. Another important aspect of the Hastings and Hastings difference is that the firm will always waive all fees associated with filing a claim if there is no recovery.
The firm takes it a step further by offering clients the guarantee that fees will never change or increase regardless of the complexity of the case. Whether a claim is settled out of court or negotiated with an insurance company, or even goes to trial, the fee that is originally quoted is the fee that clients can expect. It is this level of transparency and an upfront fee structure that has given clients the confidence to work with Hastings and Hastings over the years. This recent announcement with regard to 2014 record demand for legal representation for injuries caused by parking lot accidents is one more indication that Hastings and Hastings is an Arizona law firm that has earned its reputation one client at a time.
Hastings and Hastings is a leading provider of discount personal injury legal services located in and serving the greater Phoenix Metropolitan area. This respected legal firm specializes in assisting individuals that have been the victim of serious injuries that have resulted from accidents that were not fault of their own. Hastings and Hastings is a trusted group of attorneys that deliver personalized service and guidance for injury victims throughout Phoenix and all across the state of Arizona. Hastings and Hastings is known throughout legal circles as a dedicated team of professionals and a law firm that has been representing accident victims throughout Arizona for decades. Hastings and Hastings has consistently exceeds client's expectations with regard to representing a wide array of accident related injury victims at times when it matters the most and always doing so with discount attorney's Fees.