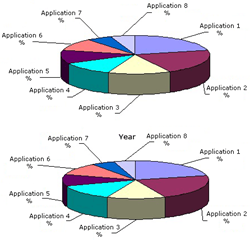 Global Nonwoven Filter Media Market to Reach $5.7 Billion in 2019
Wellesley, Mass. (PRWEB) December 10, 2014
BCC Research (http://www.bccresearch.com) reveals in its new report, Nonwoven Filter Media: Technologies and Global Markets. The global market for nonwoven filter media is expected to increase to $5.7 billion by 2019, with a five-year compound annual growth rate (CAGR) of 7.3%. The nonwovens in healthcare category, the fastest growing segment, are moving at a healthy 10.3% CAGR.
Ongoing demand for purer air and cleaner water is driving significant growth in the filtration market, which comprises a wide range of materials from sophisticated membranes and open cell polyurethane foams to ceramics and metals to coarse, porous materials to nonwovens media. In addition, filtration media technologies are increasingly playing a vital role in addressing the problem of diminishing oil and gas availability within the United States and elsewhere.
Developing consumer awareness of product safety, water purity and air quality, and their long-term effects on human health are prompting new technological trends in the filtration industry. According to UNESCO (United Nations Educational, Scientific and Cultural Organization), there are still around 900 million people without adequate access to safe drinking water around the world, indicating a key role for nonwovens and other filter media in working to resolve this issue in the years to come. As a result, the water filtration category, the largest sector of the overall market, is predicted to reach $1.2 billion in 2019 and register a significant 8.5% CAGR.
Meanwhile, expanding need for adequate air filtration in healthcare facilities, nursing homes, and clinics is driving tremendous growth in the healthcare category. Consequently, the healthcare segment of market, which was valued at just $422 million in 2013, is anticipated to jump to $761 million by 2019.
"Over the next five years, the strongest growth for nonwoven filter media will certainly be in the Asia-Pacific region," says BCC Research advanced materials analyst Adrian Wilson. "New power plants -- particularly in China -- will be a very important market for nonwoven media for air filtration, as will that for automotive filters, as the planet's car population continues to soar. Nonwoven filter sales in the pharmaceutical manufacturing segment are anticipated to see especially rapid growth across most world regions. Although not at quite as high a rate, purchases of filters in the HVAC sector are also rising worldwide. Another good growth market is in the filtration of waste streams from oil and gas production."
As filter media, nonwovens can be engineered to offer benefits for many applications including the removal of a wide range of contaminants; a uniform structure; tear and puncture-resistance; chemical resistance; high retention capacities; high air permeability; excellent abrasion resistance; flame retardancy; the absorption of fats and oils; a high level of flow capacity; and high tensile strength. End-use applications for nonwoven materials include both single-use absorbent hygiene products (AHPs) such as diapers, wet wipes and medical dressings, as well as more durable materials which are employed in the automotive, construction, protective apparel, insulation, and packaging industries.
Nonwoven Filter Media: Technologies and Global Markets provide an overview of the global market for nonwoven filter media and related technologies. It includes analyses of global market trends, with data from 2013, estimates for 2014, and projections of CAGRs through 2019.
Editors and reporters who wish to speak with the analyst should contact Steven Cumming at steven.cumming(at)bccresearch(dot)com.
About BCC Research
BCC Research publishes market research reports that make organizations worldwide more profitable with intelligence that drives smart business decisions. These reports cover today's major industrial and technology sectors, including emerging markets. For more than 40 years we've helped customers identify new market opportunities with accurate and reliable data and insight, including market sizing, forecasting, industry overviews, and identification of significant trends and key competitors. We partner with analysts who are experts in specific areas of industry and technology, providing unbiased measurements and assessments of global markets. Our clients include the top companies in industries around the world as well as universities, business schools, start-ups, consulting firms and investment companies. BCC Research is a unit of Eli Research LLC. Visit our website at http://www.bccresearch.com. Contact us: (+1) 781-489-7301 (U.S. Eastern time), or email information(at)bccresearch(dot)com.
Data and analysis extracted from this press release must be accompanied by a statement identifying BCC Research LLC, 49-2 Walnut Park, Wellesley, MA 02481, Telephone: (+1) 781-489-7301; Email: editor(at)bccresearch(dot)com as the source and publisher. Thank you.