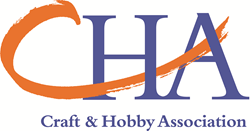 Elmwood Park, New Jersey (PRWEB) December 11, 2014
Innovative art materials and paint suppliers will be spotlighted at the Craft & Hobby Association 2015 Conference & Trade Show (CHA MEGA Show) taking place January 9-13, 2015 at the Anaheim Convention Center in Anaheim, CA. The new Art & Paint Pavilion will also feature a curated Gallery, sponsored by the Society of Decorative Painters (SDP), showcasing the best hand-made decorative paintings from artists all over the world.
"We are excited about our first collaboration with the Society of Decorative Painters and to offer our attendees and members a central area for them to see the latest design trends and products in this fast growing market segment of the industry," said Andrej Suskavcevic, President and CEO, Craft & Hobby Association.
Exhibitors participating in the nearly sold-out Art & Paint Pavilion include Krylon, Sargent Art, PENTACOLOR, AVT Paints, FPC Corp, Stuff2Color, Art Wire, Ruby Red Paint, and Loew-Cornell. The interactive pavilion will also feature daily paint demonstrations from international artists and chances to win unique artwork.
The Society of Decorative Painters recently entered into a management agreement with CHA and the Art & Paint Pavilion will promote decorative paintings and its membership offering to the creative arts industry attending the CHA MEGA Show.
The New Exhibitor Section will also be another popular destination at the CHA MEGA Show. More than 50 emerging companies, representing all product categories, will be exhibiting brand new and recently introduced products. This high traffic area of the show floor will give attendees insight into one of kind products and new ideas to drive consumer sales. New Exhibitors include: AEC, Altenew, Avery Elle, Chameleon Art Products, Dare 2B Artzy, Fairfield Processing, Little B, Lumi, Printindo Mega Utama, Rose & Meyer, Schylling Toys, SureHold, University Games, Wood Creations, and many more.
The CHA MEGA Show will bring together the entire crafts and creative industry for five days, with small and large retailers, independent chains, and vendors from across the world. The exhibit floor is open from January 10-13 and the conference opens on January 9th with a full day of business sessions and hands-on workshops.
With more than 3,000 attendees, 400 exhibitors and 56+ countries represented, the CHA's award-winning annual MEGA Show is the place to connect with craft industry peers from all over the world, as well as a resource for quality education to help all segments of the industry manage and grow their businesses.
For more information on the CHA MEGA Show, and to register to attend or exhibit, go to http://www.craftandhobby.org/chashow
###
ABOUT THE CRAFT & HOBBY ASSOCIATION
The Craft & Hobby Association (CHA) is an international nonprofit trade association consisting of thousands of member companies engaged in the design, manufacture, distribution and retail sales of products in the worldwide craft and hobby industry. For more information about CHA, membership or its award-winning CHA Conference and Trade Show, visit http://www.craftandhobby.org.
EDITOR'S NOTE: Qualified members of the media are invited to register as press for the 2015 MEGA Show. For more information and to register, go to the CHA Press Room Portal at http://www.expologic.com/chapress.