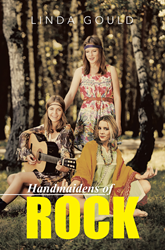 I love researching the people behind the music.
Washington, DC (PRWEB) December 15, 2014
The meteoric rise and inevitable splintering of many famous rock bands continues to be a story embedded in American culture. In each case, the wives and girlfriends of the band members can heal or create the divisions that tear bands apart.
Author Linda Gould's new novel "Handmaidens of Rock" returns to the classic rock era of the '60s and '70s and follows the formation, drama, and fallout surrounding the rise of a group of rock stars unprepared for fame.
"Few modern bands ever become as well known as many classic rock bands remain to this day, like The Beatles," Gould said. "I love researching the people behind the music and exploring the role that women had in these famous bands, and putting that into my characters."
"Handmaidens of Rock" is a compelling tale for any lover of music or rock, or for a baby-boomer looking for a tale that harkens back to a different time in America.
Handmaidens of Rock
By Linda Gould
Available in softcover, hardcover, e-book
Available on Amazon, Barnes & Noble and Google Books
About the author
Linda Gould's interest in rock bands began when she was a young fan of the Beatles and other British Invasion bands. She later branched out to other acts like Jimi Hendrix, Janis Joplin, Pink Floyd, and the Grateful Dead, and became fascinated by the autobiographies of these stars and their discarded wives.
For review copies or interview requests, contact:
Craig Cainkar
(317) 602-7137
ccainkar(at)bohlsengroup(dot)com