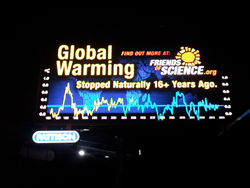 "…the carbon market is based on the lack of delivery of an invisible substance to no one."
Calgary, Alberta, Canada (PRWEB) December 11, 2014
World Bank President Jim Yong Kim made a speech Dec. 8, 2014, to the Lima, Peru COP-20 UNFCCC climate change event entitled, "Sending a Signal from Paris: Transforming the Economy to Achieve Zero Net Emissions" to which Friends of Science express their disagreement.
Kim lauds the carbon tax model of the province of British Columbia, Canada as being 'neutral to the taxpayer' – a statement made following his demand that 'all countries should put a price on carbon." Friends of Science dispute President Kim's claims and say the British Columbia (BC) carbon tax has damaged the BC economy and led to questionable practices and high prices.
According to a March 7, 2013 report in Canadian Immigrant, Vancouver, B.C. is one of the three most expensive cities to live in, in North America, with the interior of the province faring only nominally better.
Friends of Science also point out that the World Bank is heavily invested in renewables and cannot be seen to be an honest broker; renewables often rely on carbon credits to be viable.
Friends of Science further point to empirical evidence in the World Radiation Center graphs of declining solar irradiance, along with all five global temperature datasets showing a +16 year pause in global warming; evidence that carbon dioxide is not the main driver of climate change, which, in their view, renders renewables, carbon trades and reduction schemes virtually valueless.
As early as May 7, 2012 the magazine BC Business was reviewing "BC's Carbon Neutral Policy" reporting that the program came with financial burdens: ". significant costs to the B.C. public service that provided the initial captive market. In 2010, the public sector paid $18.2 million for carbon offsets. School districts were among the hardest hit, including Surrey ($496,892), Vancouver ($406,094) and Richmond ($182,387)."
In Harper's Magazine, February 2010 article "Conning the Climate," writer Mark Schapiro said: "…the carbon market is based on the lack of delivery of an invisible substance to no one."
Indeed many of the types of carbon trading shenanigans that Interpol has warned about in carbon trading seem to have reared their heads in some way in BC.
Nature Conservancy of Canada, a federally registered charity, is trading carbon credits on the Darkwoods Forest Carbon project.
The May 7, 2012 BC Business report stated: "In the case of the Darkwoods project, the Canadian Centre for Policy Alternatives conducted its own research and concluded that the (BC) Pacific Carbon Trust acquired the offsets for about $5.70 a tonne and charged the public service [schools and hospitals]– that are legally bound to buy them – $25 a tonne."
By Nov. 19, 2013, the Globe and Mail was reporting the Pacific Carbon Trust scandal would force massive restructuring. Jordan Bateman of the Canadian Taxpayers Federation is quoted as saying that: "Taxpayers are spending millions on buying carbon credits for these facilities rather than providing frontline [health/education] services," He had blogged July 26, 2013 that the "BC: Carbon Tax No Success Story." detailing why.
Friends of Science Society hold the position that the sun is the main driver of climate change, not human activity or carbon dioxide, thus carbon trading is not beneficial to the environment or the economy.
About
Friends of Science have spent a decade reviewing a broad spectrum of literature on climate change and have concluded the sun is the main driver of climate change, not carbon dioxide (CO2). The core group of the Friends of Science is made up ofa growing group of earth, atmospheric, astrophysical scientists and engineers who volunteer their time and resources to educate the public
Friends of Science Society
P.O. Box 23167, Mission P.O.
Calgary, Alberta
Canada T2S 3B1
Toll-free Telephone: 1-888-789-9597
Web: friendsofscience.org
E-mail: contact(at)friendsofscience(dot)org